July 8, 2022
Ornelas awarded NCARB President's Medal for Distinguished Service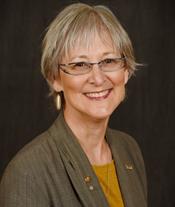 Wendy Ornelas, professor emerita of architecture in Kansas State University's College of Architecture, Planning & Design's, or APDesign, has been awarded the National Council of Architectural Registration Boards' highest honor, the President's Medal for Distinguished Service.
Ornelas was recognized by 2021-2022 President Alfred Vidaurri Jr. at the organization's 2022 annual business meeting. Vidaurri commended Ornelas for her commitment to architectural regulation and the council's mission to protect the public's health, safety and welfare.
Ornelas was selected for her outstanding service to architectural education and the council, as well as her leadership of the Kansas State Board of Technical Professions. A dedicated educator, Ornelas has helped shape the next generation of architects as a professor at K-State for more than three decades. She has also offered her time and expertise to several architecture organizations, serving as the National Architectural Accrediting Board president in 2009-2010, as well as a regional director for both the American Institute of Architects and the Association of Collegiate Schools of Architecture. Ornelas was first appointed to the Kansas Board in 2006, later becoming the board's chair in 2021.
She has served on several of the National Council of Architectural Registration Boards volunteer initiatives, including as a jury member for the NCARB Award, which provided funding to help architecture programs implement classes, seminars, and studios that would have a long-term impact on students. Ornelas was designated an NCARB Scholar in Professional Practice and served on NCARB's Credentials Committee and as chair of the Incidental Practice Task Force, which explored areas of overlap between the practices of architecture and related professions like engineering, landscape architecture, and interior design.
The National Council of Architectural Registration Boards is a nonprofit organization made up of the architectural licensing boards of 55 U.S. states and territories. While each jurisdiction is responsible for regulating the practice of architecture within its borders, the council develops and administers national programs for candidates pursuing architectural licensure and helps architects expand their professional reach through the NCARB certificate.