June 20, 2022
Anthony named department head of chemical engineering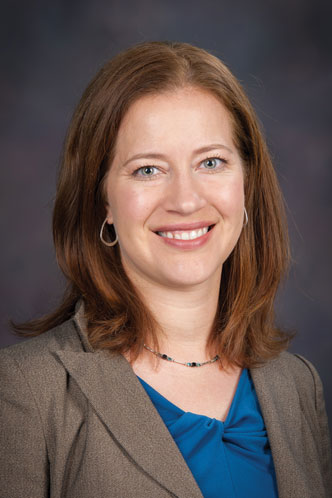 Jennifer Anthony, Wayne and Barbara Harms — Carl and Mary Ice Keystone research scholar and associate professor at Kansas State University, has been named head of the Tim Taylor Department of Chemical Engineering. She will also hold the title of Tim Taylor chair in chemical engineering.
The announcement was made by Matt O'Keefe, dean of the Carl R. Ice College of Engineering. Anthony had been serving as the interim head of the department since July 2019.
"Jennifer Anthony has done a tremendous job leading the department in an interim capacity the last three years," O'Keefe said. "I am confident her leadership will foster ongoing collaborations and grow the department's reputation of excellence in teaching, research and service, and most importantly, student success."
Anthony received her bachelor's degree in chemical engineering with an environmental program emphasis from the University of Colorado at Boulder, and completed both her master's and doctoral degrees at the University of Notre Dame. She was a postdoctoral scholar at the California Institute of Technology before joining the K-State faculty in 2005.
Her research primarily involves novel materials such as nanoporous molecular sieves and ionic liquids with a focus on the role of solvent in molecularly designing materials for specific applications. These efforts include a variety of experimental methods designed to aid understanding of their fundamental properties and to investigate potential applications for the materials.
Anthony has co-authored more than 25 publications, together receiving more than 3,000 citations. She and her research group have given more than 70 presentations at local, national and international conferences.
She replaces James Edgar, university distinguished professor and Tom H. Barrett university faculty chair, who spent three years as a program manager at the National Science Foundation, Division of Materials Research, Electronic and Photonic Materials program in Alexandria, Virginia. Edgar will return to K-State as a faculty member in the department.