May 27, 2022
Crosby receives prestigious fellowship to support sabbatical projects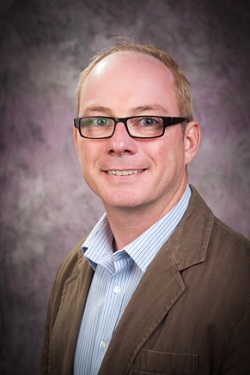 Mark Crosby, associate professor of English in the College of Arts and Sciences, has received a prestigious fellowship to support archival research during his sabbatical leave in spring 2023.
Crosby will be a visiting fellow at the Weston Library, part of the Bodleian Libraries at the University of Oxford, during February and March 2023. The Carr-Thomas-Ovenden Fellowship in English Literature will support Crosby's research in the library's special collections on William Blake's apprenticeship.
While at the archive, Crosby will examine materials by William Blake and James Basire, Blake's engraving master. This research will contribute to an article on Blake's time at Westminster Abbey and to Crosby's current book project on Blake's patronage relationships, their formations and their influence.
In addition to these two publications, Crosby's research will also help him curate a virtual exhibition of James Basire's "Le Champ de drap dor" and its influence on Blake for The William Blake Archive. The archive's innovative virtual exhibition space allows viewers to browse through curated and contextualized topics related to Blake's work. This virtual exhibition will mark the first public study of Basire's engraving and its influence on Blake and his work.
"As one of the leading experts on the poetry and manuscripts of William Blake and as a long-standing editor of The William Blake Archive, Mark Crosby is ideally suited to the research he will undertake at Oxford," said Karin Westman, department head of English. "Thanks to the Carr-Thomas-Ovenden Fellowship, the results of Crosby's research will reach not only scholars but also general audiences through the public humanities of the Blake Archive."
More information about Crosby's work is available on his faculty page.