April 29, 2022
Vedant Kulkarni awarded Michael E. Brown Alpha Tau Omega Mortar Board Leadership Scholarship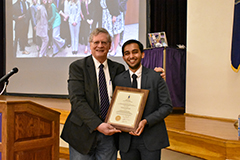 Vedant Deepak Kulkarni, senior in management information systems, mass communications and pre-law, Nashik, India, is this year's recipient of the Michael E. Brown Alpha Tau Omega Mortar Board Leadership Scholarship. Kulkarni was presented the award at the Mortar Board initiation banquet on April 10.

The Brown Mortar Board Scholarship was established in 2009 and named for Mike Brown, treasurer of the Kansas State Alpha Tau Omega Students' Aid Endowment Fund for 33 years and Mortar Board advisor for 13 years. The award is for $1,000. Kulkarni was presented with the award by Bill Muir, assistant vice president emeritus.

The award is given annually by the endowment fund by a joint committee to a member of Mortar Board who is a K-State student in good standing and is judged to be of good character and sound academic standing and who has substantially and meritoriously contributed to the quality of student life at the university and outstanding leadership in Mortar Board.

Kulkarni has excelled in leading the 2021-2022 XIX Chapter of Mortar Board Senior Honor Society. His efforts resulted in an outstanding year for Mortar Board focused on leadership, scholarship and service to the university community and beyond. Throughout the year, Kulkarni was a consistent presence at all events, encouraging members to engage in activities, offering creative solutions and approaches, and delegating as necessary. He worked tirelessly to ensure the success of the chapter in reaching collective goals established at the start of the semester.