April 26, 2022
Hallie Everett appointed adviser for two Collegian Media Group publications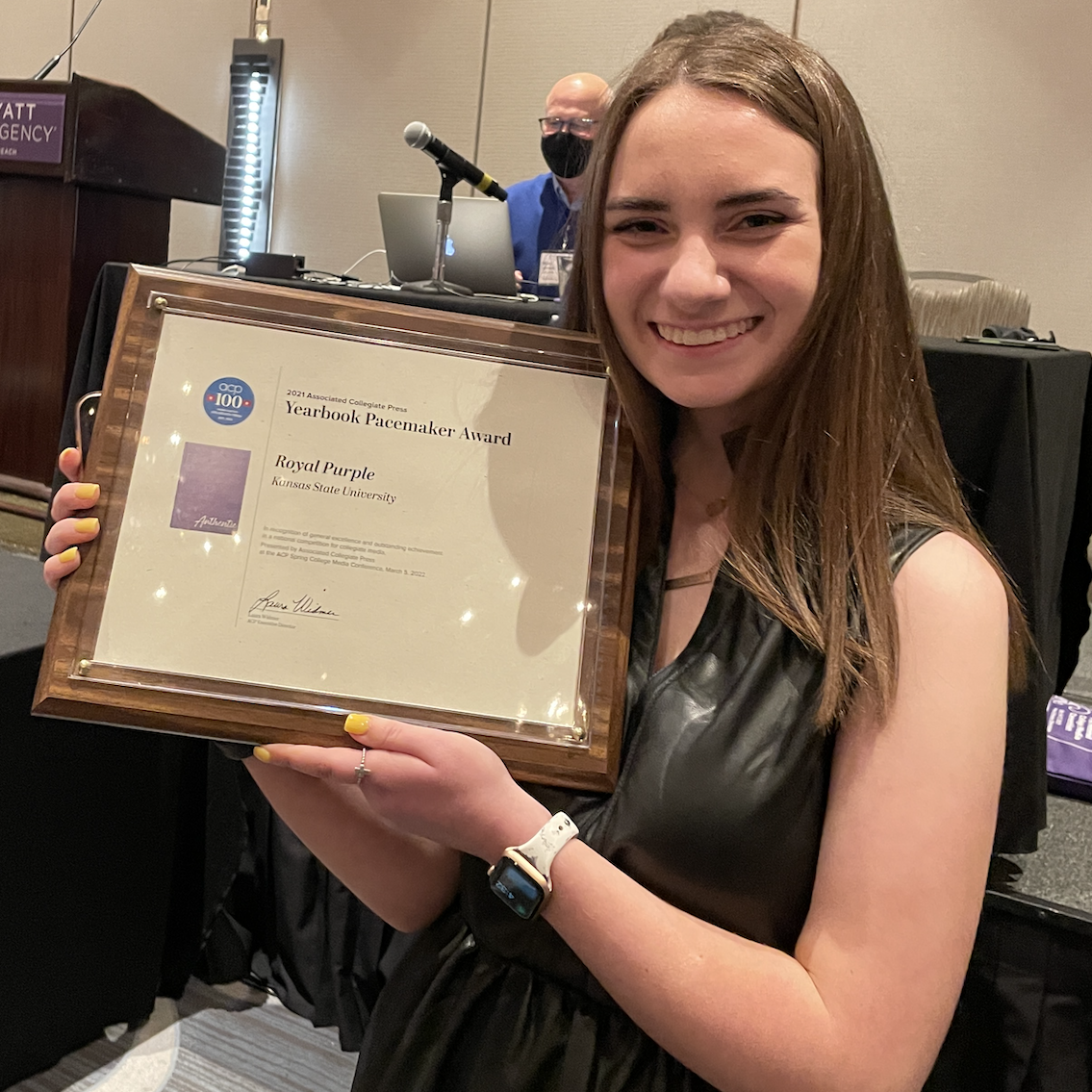 The Collegian Media Group has hired Hallie Everett to assume the position of adviser to the Royal Purple yearbook and Manhappenin' magazine, beginning Aug. 1. Everett will earn a bachelor's degree in journalism and mass communications from Kansas State University on May 14.
David Levy, director of the Collegian Media Group, said he started considering Everett for the position soon after the associate director, John Walter, resigned in December 2021. Walter advised both publications from fall 2019 to December 2021. Levy and Collegian Media Group's Assistant Director Daren Lee Lewis, who interviewed candidates for the vacancy, have been sharing the additional workload this semester. Levy has been advising both publications and the Collegian newspaper.
"When I planned the national search, I was committed to hiring someone who would match the personality and the changing culture at Collegian Media Group," Levy said. "A number of candidates with advising experience applied and experience is important. But Hallie has that extra special something: a genuine love for the Royal Purple and Collegian Media Group. It's a passion I could never teach to anyone."
Everett has worked on the Royal Purple for four years. She was the co-editor-in-chief for the 2021 yearbook and led her staff to a national Pacemaker award, the highest honor a yearbook can receive. She is the editor-in-chief for the 2022 yearbook that will be distributed in May.
"I am beyond excited to advise the Royal Purple and Manhappenin' staffs as they produce more amazing work," Everett said.
As part of her graduation requirement with the A.Q. Miller School of Journalism and Mass Communications, Everett interned at National Horseman magazine, writing feature stories and copyediting.
"She brings that to the table, too," Levy said. "Manhappenin' magazine is very popular and has been a huge success for the Collegian Media Group. It was important for me to have next year's editors of both publications and our other student leaders offer their input on the candidates. They all expressed their support for Hallie — and we listened."