March 23, 2022
Veterinary college hosts pre-veterinary students, Temple Grandin at national symposium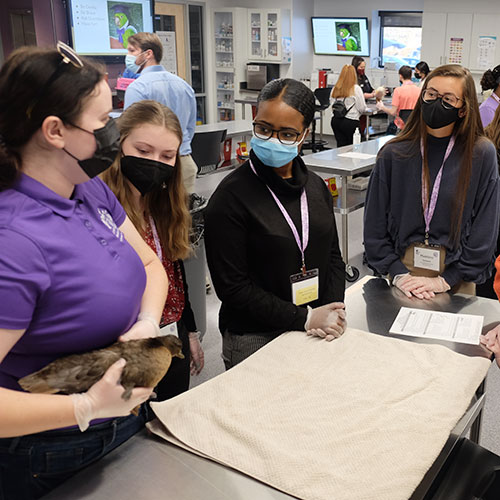 The Kansas State University College of Veterinary Medicine, along with the KSU Pre-Veterinary Club and the Veterinary Voyagers, hosted these students for the annual symposium of the American Pre-Veterinary Medical Association, or APVMA, March 11-12. K-State last hosted the symposium in 2002, and previously in 1987 and 1996.
The two-day event included 50 lectures and 21 labs, the latter offering a variety of hands-on activities for the students in several newly renovated labs and learning spaces in the college.
The symposium opened with a welcome from Bonnie Rush, Hodes family dean of the College of Veterinary Medicine, and a keynote presentation by David Franz, a 1970 graduate from the veterinary college, who shared his career path after college, which included stints in private practice, the military, leadership of the U.S. Army Medical Research Institute of Infectious Diseases, volunteer work and much more.
"The APVMA Symposium is an event we have been planning for over a year," said Callie Rost, assistant dean for admissions. "We are very fortunate it worked out to host an in-person symposium and enthusiastically welcomed pre-veterinary students from across the country to the K-State campus."
Rost said the College of Veterinary Medicine has unique features they were able to highlight with attendees and pre-vet advisers.
"The faculty and students of K-State, including several from other academic colleges, created outstanding lectures and labs to allow attendees to gain hands-on experience and explore the many interesting opportunities in veterinary medicine and at the K-State College of Veterinary Medicine," Rost said.
The second day was highlighted by a keynote presentation by Temple Grandin, a well-known animal behavior scientist and autism self-advocate, who stressed the importance of reducing fear for animals, particularly in cattle where she has spent the majority of her career. She is currently a faculty member in the College of Agricultural Sciences at Colorado State University.
"That was a good and knowledgeable lecture," said Cherish Hillman, a student at Tuskegee University. "She showed us about behavioral information, like calming down animals, and how it takes about 20-30 minutes to calm down cattle when they show signs of fear."
Hillman said she really enjoyed "Cuddles with Canines," a service project where students could donate $1 for 10 minutes of cuddle time with puppies from the Riley County Humane Society. The service project raised $330 with the help of volunteers from the humane society, and all donations will go directly to animals in need.
In addition to the students who attended in person, there were 80 virtual attendees. Those who attended in person were offered opportunities to connect with 20 sponsors and exhibitors.