March 9, 2022
Stu Duncan recognized as 2022 Cotton Specialist of the Year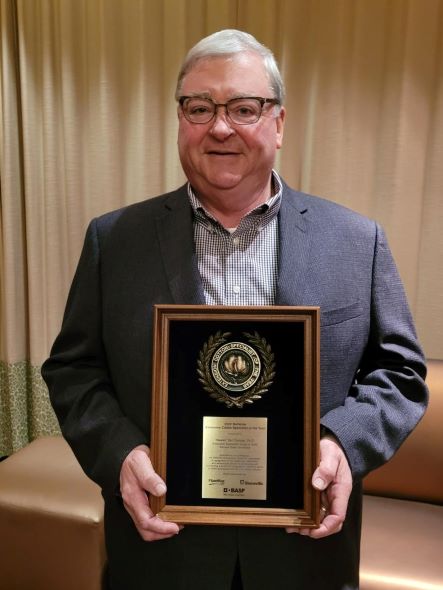 Stewart "Stu" Duncan was named the 2022 Cotton Specialist of the Year during an awards ceremony held earlier this year. The ceremony was held in conjunction with the Beltwide Cotton Conference in San Antonio.
The prestigious award, voted on by cotton specialists in the 17 states where cotton is grown, is given to one individual each year and is based on multiple considerations including exceptional leadership and outstanding industry service. The award is sponsored by BASF.
A lifelong Kansan, Duncan earned his bachelor's, master's and doctoral degrees in agronomy from K-State. During his university career, he provided leadership for all types of crop production and environmental protection practices. He helped develop the state's cotton production system and affiliated industry, including cottonseed processing and use, cropping systems demonstrations and research. He retired in 2021 following 40 years of professional service.
"I am extremely pleased to see Stu recognized by his peers as Cotton Specialist of the Year," said Steve Nichols, BASF agronomic services manager, cotton. "Stu has always been highly engaged in agriculture throughout his career and has demonstrated a passion for cotton and the cotton industry. I appreciate the many contributions he has made over the years and I'm proud to call him a friend."