February 7, 2022
Acclaimed expert in topology visualization and geometrical graphics to present Art and Math Seminar
Submitted by Natalia Rozhkovskaya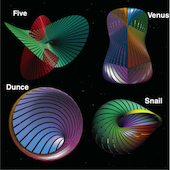 On Feb. 10, George Francis will speak at the Art and Math Seminar from noon to 1 p.m. via Zoom. Registration is required to participate in this seminar.
The works in geometrical graphics and descriptive topology by Francis are well known in the international mathematical community. His acclaimed "Topological Picturebook" with numerous visualizations in low dimensional geometry and topology was first published in 1987 and is translated to several languages. Founded by Francis, collaborative team illiMath Collective created videos and presentations that were exhibited at math and computer science professional meetings, as well as at the museums, including the Chicago Museum of Science and Industry, the Krannert Art Museum, and the Dennos Museum Center. He received his doctorate in 1967 in Michigan. He is a senior research scientist at the National Center for Supercomputing Applications and professor emeritus at the Department of Mathematics at the University of Illinois in Urbana/Champaign.
The online Art and Math Seminar, organized by the Department of Mathematics, is dedicated to visual creativity inspired by mathematical sciences. View the complete seminar schedule and registration form.