January 31, 2022
Wendy Pfeifer named new director of corporate engagement for the College of Business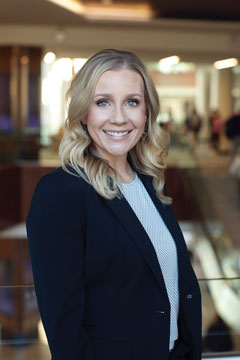 Wendy Pfeifer '06, was recently named the director of corporate engagement for the Kansas State University College of Business. Pfeifer has been a career coach with the College of Business Student Success Center since 2016. This new position is designed to create and maintain mutually beneficial relationships between the college and outside companies and organizations.
"We have a tremendous opportunity to further our relationship development efforts," said Kurt Roberts, executive director of career development. "This new position will allow us to be very strategic in our approach and provide sustainability to new and existing relationships for the entire College of Business."
As the director of corporate engagement, Pfeifer will work with companies to develop mutually beneficial goals and identify engagement opportunities in support of their recruitment of K-State students/graduates and other key objectives. She foresees additional opportunities to involve corporations with College of Business efforts around research, certifications, micro-credentials and student-facing initiatives such as Rise Up and the Executive Mentor Program.
"Wendy has a great understanding of what we do at the College of Business," Roberts said. "She is excellent at creating and managing relationships and will be able to prioritize the goals of the position in a highly productive way."
As a career coach, Pfeifer worked primarily with management, management information systmes and entrepreneurship students providing one-on-one career consultations associated with internship or full-time job searches. She also managed the college's Executive Mentor Program and worked closely with and supported student organizations such as the K-State Society for Human Resource Management and the Global Supply Chain Club.
Pfeifer said that her 10 plus-year career in human resource management before coming to the College of Business will be beneficial and allow her to understand both sides of the relationships she will be building and maintaining.
"I am most excited about creating and managing meaningful relationships between leaders of the College of Business and our industry partners," Pfeifer said. "I also look forward to leveraging this new position to obtain the best opportunities for our students."
The idea of the position has been incubating for a few years, according to Kevin Gwinner, Edgerley family dean of the College of Business.
"A critical aspect of our college strategic plan is to build corporate partnerships to a higher level and degree of intimacy," Gwinner said. "Our goal is to increase the quantity and quality of interactions that faculty and students have with the business community to create mutual value. Wendy will serve as a connector and facilitator by linking faculty and staff with specific companies, helping to establish goals for each corporate relationship, and facilitating the growth and maintenance of those relationships."
To learn more about the College of Business and any of the programs and opportunities listed above, visit cba.k-state.edu.