January 18, 2022
Architectural engineering and construction science students earn concrete certification from ACI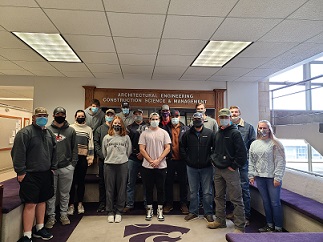 Seventeen students from the GE Johnson Department of Architectural Engineering and Construction Science have received Tilt-Up Concrete technician certification following completion of coursework and successfully passing an exam administered by the American Concrete Institute.
Students earned the certification by demonstrating an understanding of safety, plan reading, scheduling, site preparation and foundations, slabs on grade, layout, forming, concrete properties and placement, erection and structural systems for producing tilt-up projects.
The group of students completing the exam took CNS 629 — Tilt-up Concrete Construction, which was developed and taught by Kimberly Waggle Kramer, professor and GE Johnson construction science chair in architectural engineering and construction science.
The course was supported in part with resources from the Tilt-up Concrete Association. Kramer, who has served as keynote speaker at the association's annual meeting and as a judge for its national competition, also is on the American Concrete Institute's 551 Tilt-up Concrete Construction Committee that writes the national standards for design and construction.
"Construction companies performing this type of construction are required to have a certified technician on the job," Kramer said. "K-State has helped to triple the number of technicians in Kansas throughout the last several years, as well as helped to certify the first two female tilt-up concrete technicians in the nation. This year, 18% of the students are female, while according to the National Association of Women in Construction, women working in the construction industry numbered 1.5% of the entire U.S. workforce."
In 17 years, more than 450 students have taken Kramer's course and nearly all of them have become certified as tilt-up technicians with a 99.8% pass rate.
"Our department has placed an increasing emphasis on attracting quality individuals to the construction industry during their college careers," said Ray Buyle, professor and department head of architectural engineering and construction science. "Professor Kramer's input and direction have been a strong impetus in that accomplishment."
Tilt-up is a construction technique for casting concrete elements in a horizontal position at the job site and then tilting them to their final position in a structure.
Tilt-up concrete wall panels most often serve as load-bearing wall elements spanning vertically from the foundation or slab-on-ground to intermediate floors, the roof or both. Tilt-up panels are generally handled only once. They are lifted or tilted from the casting slab and erected in their final position in one, continuous operation. Tilt-up panels are generally of such large size and weight — 120,000 pounds — that they can only be constructed on-site and in close proximity to their final location in the structure.
The following students completed the course and received certification in fall 2021:
Chelsea Lewis and Luke Swicegood, both from Alma; Will Stewart, Andover; Lindsey Anderson, Atchison; Joel Donn, Bonner Springs; Christopher Betzen, Colwich; Sammy Cervantes Jr., Greensburg; Brady Mulroy, Holton; Alexis Susunaga, Kansas City; Charles Ragan, Louisburg; Ian Werick, Manhattan; Jeffrey Houser, Mulvane; Jake Patterson, Overland Park; and Tucker Sherretts, Valley Falls.
From out of state: Collette Lemanske, Littleton, Colorado; Brett Manning, Fulton, Maryland; and Dawson Bailey, Raymore, Missouri.