January 6, 2022
Electrical and computer engineering department names winners of Fall Senior Design Expo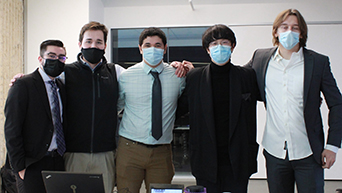 The Mike Wiegers Department of Electrical and Computer Engineering hosted its semiannual Senior Design Expo on Dec. 7, 2021, in the Engineering Hall Atrium. Four teams presented projects to faculty, staff, students and guests.
First place was awarded to the Pill Dispenser team of Anthony Garvalena, Cesar Zavala, Robert Foeller, Brett Montgomery and Jiahui Zhao. The pill dispenser could be set to distribute the correct number of pills at designated time intervals. Second place went to the Drowsy Detector team with Giancarlo Macias, Jacob Rico-Martinez, Jacob Swift, and Jhonatan Rodriguez. The Drowsy Detector could alert drivers by using a steering wheel motion detection and a heart rate sensor.
The senior design class receives support from industry and private donors to cover the costs of project expenses. The projects were judged on five criteria: presentation and demonstration skills; the overall quality of the design; how well the design constraints were identified; how well the project considered needs such as public health, safety and welfare, as well as global, cultural, social, environmental and economic factors; and the level of teamwork demonstrated.
Roger Riggert and Don Gemaehlich provide special alumni donations for monetary awards to the top teams.

Congratulations to the winners and all our teams for a job well done.