April 2, 2013
K-State's Alpha Kappa Alpha Sorority Inc. wins outstanding undergraduate chapter for the Midwest region
Submitted by Communications and Marketing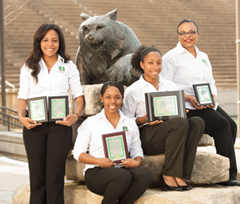 One of Kansas State University's Greek organizations is the best in the Midwest.
The Kappa Pi chapter of Alpha Kappa Alpha Sorority Inc. won the Dorothy King Tucker Outstanding Undergraduate Chapter for the Midwest Region at a conference recently in Tulsa, Okla. The university's chapter was chosen over chapters in Nebraska, Iowa, Colorado, Wyoming, Oklahoma, Montana, Missouri and elsewhere in Kansas.
"Kappa Pi is filled with K-Staters with talent, experience, knowledge and greatness," said Zelia Wiley, chapter adviser and assistant dean and director for diversity programs in the College of Agriculture. "It is rewarding to see our regional leaders recognize how outstanding these women are."
Alpha Kappa Alpha Sorority Inc. is the oldest Greek letter organization established by and for African-American college-trained women. The Kappa Pi chapter has been at Kansas State University since 1976. The president is Jocelyn Clemons, senior in agriculture technology management from Austin, Texas.
The theme for Alpha Kappa Alpha's program initiatives is "Global Leadership Through Timeless Service." Among Kappa Pi's contributions to the Manhattan campus are an annual breast cancer awareness campaign, forums, and service programs like an entrepreneur workshop, Healthy Days with the AKAs, DedAKAted Black Man, Technology 101 and AKAnomics. The chapter also collaborates with the university group Minorities in Agriculture, Natural Resources and Related Sciences -- or MANRRS -- for Peace Corps awareness.
Along with Clemons, members of the sorority are:
Shantell Dixon, sophomore in social sciences, Junction City.
From Greater Kansas City: Jasmine Holmes, junior in marketing, Jazmin Richmond, senior in nutritional sciences, and Jasmine Jordan, junior in mass communications, all of Kansas City, Kan.; and Kathryn Blair, sophomore in pre-professional business administration, Kansas City, Mo.
From out-of-state: Jasmine Thompson, sophomore in psychology, Grand Prairie, Texas.