May 3, 2011
Career excellence: five faculty members named university distinguished professors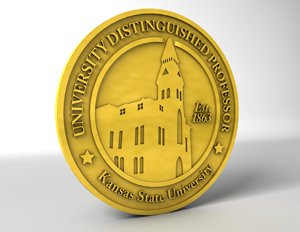 Five Kansas State University faculty members whose expertise ranges from fungi to computing are the newest university distinguished professors, a lifetime title that is the highest honor the university can bestow its faculty.
The faculty are Michael Dryden, professor of diagnostic medicine and pathobiology; Brett Esry, professor of physics; John Hatcliff, professor of computing and information sciences; John Leslie, professor and head of the department of plant pathology; and Xiuzhi "Susan" Sun, professor of grain science and industry.
"These faculty members are fulfilling the mission of the university distinguished professors group by working to advance academic excellence in all disciplines," said April Mason, K-State provost and senior vice president. "By promoting teaching, research and creative endeavors and service, these professors illustrate the caliber of K-State faculty and their commitment to education."
University distinguished professors are appointed following a universitywide competition conducted by the provost.
"Our newest university distinguished professors are a talented group of educators and researchers who have made significant contributions to their fields," said Kirk Schulz, K-State president. "With their continued efforts and resulting success, we are moving forward to become a top 50 public research university by 2025."
Each of this year's university distinguished professors has received national and international recognition for work within their field.
* Dryden is considered one of the world's foremost experts on fleas and ticks and he has researched nearly every major flea and tick product.
In addition to his device, the "Flea Trap" -- an intermittent light trap for cat fleas -- being granted a patent, Dryden has published more than 100 journal articles about his work and he has presented nearly 100 scientific papers. His lectures have taken him to 22 different countries, and his work has been supported with more than $5 million in grants and gifts from Bayer Animal Health, Pfizer Animal Health, Merial Animal Health, Novartis Animal Health and others.
Dryden has received many honors, including the 2010 Veterinarian of the Year Award, which was presented at the Purina Pro Plan 56th annual Show Dogs of the Year Awards; the Teaching Excellence Award from second-year veterinary students at K-State in 2006; the K-State Distinguished Service Award in 2005; and the Pfizer Award for Research Excellence in 1995.
A founding member of the Companion Animal Parasite Council, Dryden is also a member of the Kansas Veterinary Medical Association, the American Veterinary Medical Association and the American Society of Veterinary Parasitologists, among others.
Dryden joined K-State in 1990. He earned his bachelor's degree in biology and his doctor of veterinary medicine from K-State. He received his master's degree and doctoral degree in veterinary parasitology from Purdue University.
* Esry, K-State's Ernest K. and Lillian E. Chapin Professor of Physics, is a third-generation K-Stater and studies ultracold three-body collisions and intense laser-matter interactions. He performs his intense laser research in K-State's James R. Macdonald Laboratory as a member of the 13th-ranked atomic, molecular and optical physics program in the country.
Esry's research has appeared in more than 120 publications and he has given more than 75 talks and seminars. He's been awarded 16 grants to support his research and his funding amounts to more than $28 million in collaborative projects and $1.5 million in individual grants. One of his recent grants involves National Science Foundation funding under the American Recovery and Reinvestment Act to study what happens when atoms collide in groups of three and four. Esry received the K-State Making a Difference award and the Schwenk Teaching Award, among other honors.
Esry is a member and fellow of the American Physical Society. He has mentored 10 graduate students, 10 undergraduate students and 13 postdoctoral researchers.
He graduated summa cum laude with a bachelor's degree in physics from K-State and was one of the university's first recipients of the Barry M. Goldwater scholarship. He received his doctoral degree in physics from JILA at the University of Colorado. Prior to joining K-State in 1999, he was a postdoctoral fellow at the Institute for Theoretical Atomic and Molecular Physics at the Harvard-Smithsonian Center for Astrophysics.
* Hatcliff develops mathematical and logic-based tools for automated verification of safety and security critical software. These tools have been used by academic researchers in more than 30 countries and by teams at NASA, Rockwell Collins, Lockheed Martin, Boeing, Fujitsu and the U.S. Food and Drug Administration.
He has been the principal investigator on grants totaling more than $9 million and on collaborative projects totaling more than $13.8 million in funding from various organizations, including the National Science Foundation, Army Research Office, Defense Advanced Research Projects Agency, Air Force Office of Scientific Research, Rockwell Collins, Lockheed Martin, IBM and others. He has edited three books on software verification techniques, and published four book chapters, 19 refereed journal publications and 47 refereed publications in conference proceedings. He has also mentored four doctoral graduates.
Hatcliff received the 2004 Researcher of the Year from the K-State College of Engineering, the NASA Turning Goals Into Reality Award and was a National Science Foundation CAREER award winner. He received the 2010 International Conference on Software Engineering Most Influential Paper Award and Association for Computing Machinery Special Interest Group on Software Engineering 2010 Impact Paper Award for the paper with the most influence on the theory of practice of software engineering during the previous decade.
Hatcliff joined K-State in 1998. He received his bachelor's in computer science/mathematics from Mount Vernon Nazarene College, his master's in computer science from Queen's University in Ontario, Canada, and his doctorate in computer science from K-State.
* Leslie has gained international attention for his work on fungal genetics, particularly with members of the genus Fusarium. Fungi in this group are widespread geographically. They can be devastating through epidemic plant diseases or the production of mycotoxins that create trade barriers, pollute food supplies and threaten the health and livelihood of humans and domesticated animals.
He has published 135 refereed journal articles and has authored, edited or contributed to more than 120 abstracts and 35 books. His research, which has been granted a patent, has been supported by the U.S. Department of Agriculture, Kansas State Board of Agriculture, United States Agency for International Development and others, of which he has been the principal investigator for $5 million in grant totals.
Leslie has received numerous awards and honors, including being a senior Fulbright Scholar at the University of Sydney, Australia; a Fellow of the American Society for Phytopathology; and an honorary fellow at St. Paul's College, University of Sydney, Sydney, Australia. He is an adjunct professor at Seoul National University, Seoul, Korea, and a research associate at the Royal Botanical Gardens, Sydney, Australia. He has given more than 220 invited lectures and seminars around the world, and has mentored seven master or doctoral students.
Leslie joined K-State in 1984. He received his bachelor's degree in biology from the University of Dallas and his master's and doctoral degrees in genetics from the University of Wisconsin-Madison.
* Sun established and leads the Bio Materials and Technology Laboratory and is co-director and founder of the Center for Biobased Polymers By Design. Her expertise focuses on how various plant and grain molecules -- like proteins, lipids and sugars -- can be used to create bio-based materials that are safer, more durable and environmentally friendly.
Sun's research has been supported by the National Science Foundation, U.S. departments of Energy, Defense and Agriculture, and others, with her funding totaling more than $12 million for collaborative projects and more than $6 million in individual grants. Her work has been granted eight patents, the most recent for a peptide-based adhesive that could be used in outer space. She's also authored more than 125 peer-reviewed journals, more than 10 book publications, has been an invited speaker at more than 50 national and international conferences, and has advised 25 master's and doctoral students, as well as 22 postdoctoral research associates and visiting scholars.
Honors and awards Sun has received are many, including the university's Professional Performance Award and the Outstanding Food Scientist Award, the Outstanding Senior Scientist Award, the Scientific Research Society Sigma XI Award, China's Longjiang Outstanding Scholar Award, the Outstanding Service Award from the American Association of Cereal Chemists, and many others.
Sun joined the grain science department at K-State in 1996. She received her bachelor's and master's degrees from Northeast Agriculture University in China and earned her doctorate in agricultural and biological engineering from the University of Illinois.