April 1, 2013
GoPro, world's most versatile camera, available for checkout
Submitted by Information Technology Assistance Center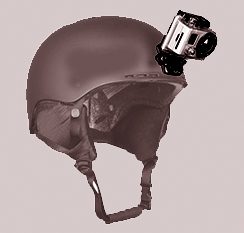 A GoPro HD HERO2 Outdoor Edition camera is now available for checkout to all K-State students and faculty/staff from iTAC's Equipment Checkout in 214 Hale Library. The camera has a waterproof casing, various mounting options, upgraded sound and video/picture quality.
The GoPro HD HERO2 is specifically designed for shooting HD (high definition) video while you're outdoors riding, playing, skiing or boarding. It comes with a head strap, helmet strap, curved adhesive mounts, and flat adhesive mounts (a small fee will be charged for the adhesive mounts).
You can capture 1080 pixels at 30 frames per second, or fps; 960 pixels at 48 or 30 fps; 720-pixel video at 30 or 60 fps; as well as 5-, 8-, or 11-megapixel digital still photos.
Equipment can be checked out for a period of three days using your Wildcat card. Accessories included with the GoPro Hero 2 camera:
USB cable for downloading video
Waterproof and skeleton housings
Head

-strap

mount
The GoPro is probably the most versatile camera available from Equipment Checkout. Take it for a swim, go skydiving with it, attach it to a helmet on a mountain bike ride and get creative.