October 15, 2021
Join in the Fighting for a Cure Tailgate Party this Saturday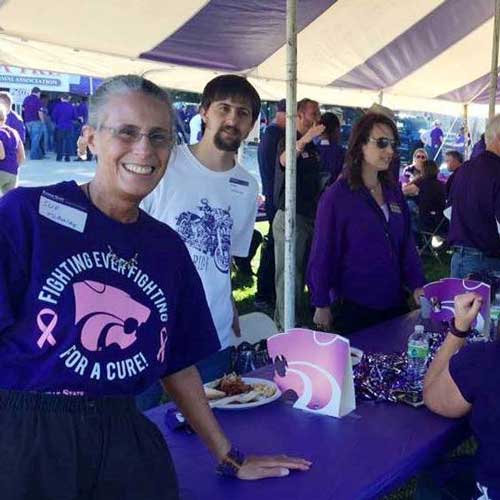 Tailgate with the College of Arts and Sciences and Johnson Cancer Research Center as they celebrate K-State's eighth annual Fighting for a Cure Day Oct. 16. The tailgate party will be at 4:30 p.m., two hours before the Wildcats take on Iowa State, at Bill Snyder Family Stadium, between the Vanier Football Complex and east parking lot.
Admission to the party is $15 for adults and $5 for kids age 15 and younger. Food and drinks, including alcohol, will be provided, along with fun purple swag. Guests will have the opportunity to chat with Dean Amit Chakrabarti and other college leadership and learn about K-State cancer research.
Reservations are requested and can be made from the ArtSci Tailgates webpage, where more details about the party are provided.
Fighting for a Cure Day celebrates K-State's fight against cancer and honors the K-State family's cancer survivors and researchers. Supporters unite in wearing Fighting for a Cure shirts and hats, proceeds from which benefit the Johnson Cancer Research Center, and the K-State Marching Band performs a special halftime tribute, time permitting.
For more information, contact Malorie Sougéy, communications and events coordinator for the College of Arts and Sciences, at maloriewagner@k-state.edu or 785-532-0664.