Professional Development Seminar Series
The Graduate Student Council strives to provide seminars, workshops, and forums that support graduate student professional development by enriching graduate students' education beyond their own disciplines. Events are coordinated by the GSC Professional Development Committee and in partnership with other K-State units and external organizations.
Fall 2021 upcoming events
Stories in Action: Developing a change narrative to navigate your uncertain and complex world
November 5
2:00 - 3:30 pm
Zoom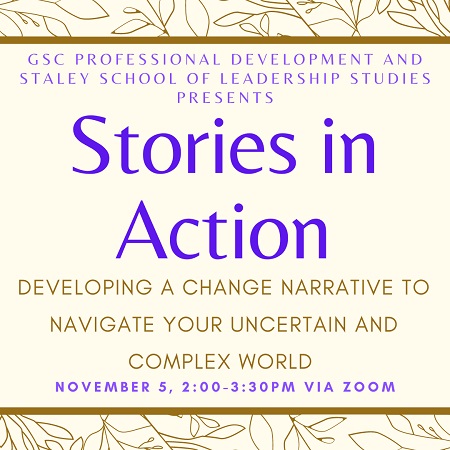 In this session, participants will engage in a narrative process to identify opportunity and possibility in the midst of complexity. You will develop a change narrative—a story that guides present actions in pursuit of future personal and professional goals.
Presenters
Dr. Kerry Priest, Associate professor, Staley School of Leadership Studies, Leadership Communication
Michaela Saunders, doctoral student in Leadership Communication
Register to attend
https://kstate.qualtrics.com/jfe/form/SV_8wBhVSPgJ5s1MsS
Y
purple
medium-basic
Register to attend
Fall 2021 concluded events
Career Center Connections
Attend one of these virtual information sessions to meaningfully network with company representatives, learn about different industries, and explore potential jobs. Click on a company name to learn more about their careers.
Sept. 7, 5:30-6:30pm – Altec
Sept. 7, 7:00-8:00pm – Garmin
Sept. 8, 4:00-5:00pm – Cintas
Sept. 15, 4:00-5:00pm – Conoco Phillips
Sept. 15, 5:30-6:30pm – Seaboard Foods
Professional Development Credit!
If you participate in the Career Center Connections, you will earn one credit toward the GSC Professional Development Certificate. You may participate in more than one session, but will receive only one credit toward the certificate if you participate in multiple sessions.
Writing Teaching, Research, and Diversity Statements
September 23
2:00 - 4:00 pm
Wildcat Chamber, Union
Zoom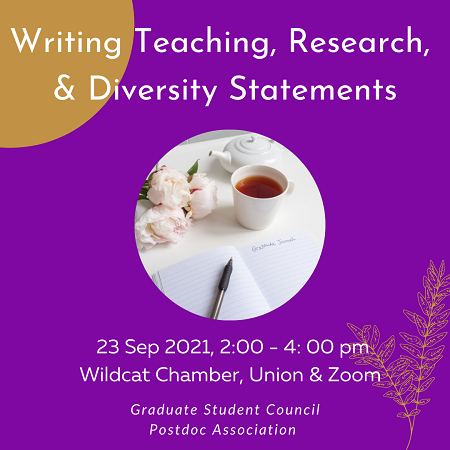 Graduate students and post-docs going on the market for academic jobs are encouraged to attend this session to learn effective strategies for preparing three key documents of your job application: a teaching philosophy, research statement, and diversity statement.
Resources from the Teaching and Learning Center (TLC)
Below are videos from Dr. Don Saucier's YouTube channel, Engage the Sage, that you may find particularly helpful with preparing academic job applications.
Explore other useful resources and events from the Teaching and Learning Center to support your teaching excellence and preparation for a teaching career!
Time management strategies and tools for graduate student success
October 5
2:00 - 3:00 pm
Wildcat Chamber, Union
Zoom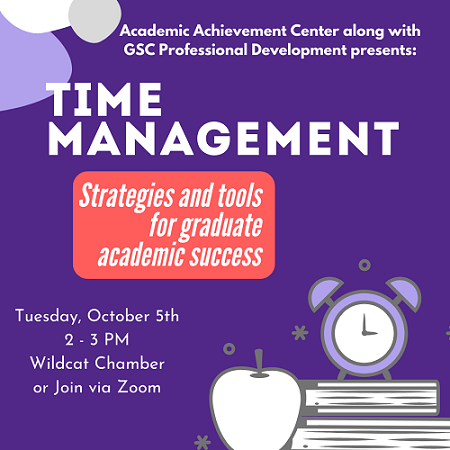 As a graduate student, it's not uncommon to have a long to-do list, and determining how to allocate time to your various responsibilities can be challenging or even overwhelming. Strong time management skills can facilitate productivity and contribute to a more positive graduate student experience. In this session, learn from K-State's Academic Achievement Center about strategies and tools to help you manage your time.
Resources for graduate students
https://www.k-state.edu/aac/resources/graduate-student-resources.html
Y
purple
medium-basic
Resources for graduate students
CV and Resume Building Workshop
October 15
1:30 - 3:00 pm
Zoom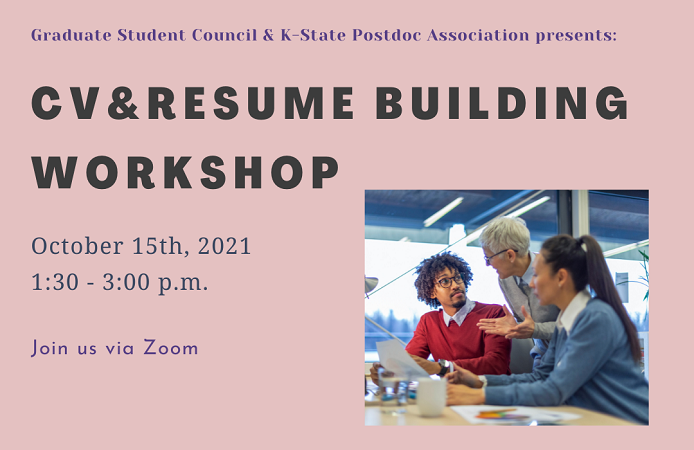 Are you a graduate student or post-doc going on the job market soon? In this session, you will learn effective strategies for building your CV for academic careers or resume for industry and government positions. Different types of jobs require different types of resumes. Presenters in this session share how to best summarize your skills, experiences, and abilities for each job opportunity. The session also includes formatting guidance to make your document professional and easy to read.
Direct questions about GSC Professional Development events to the Graduate Student Council at egsc@ksu.edu.