October 11, 2021
Kona Gray to present 'Democratic Ground – Discovering Equity in the Landscape' for next APDesign Ekdahl Lecture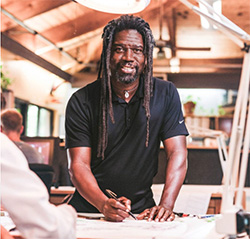 Kona Gray, principal at EDSA Inc., will present "Democratic Ground – Discovering Equity in the Landscape" in the 2021-2022 College of Architecture, Planning & Design's Ekdahl Lecture Series at 4:30 p.m. Wednesday, Oct. 13, in the Regnier Forum at Regnier Hall on the Manhattan campus. The event is free and open to the public.
Gray's lecture is broken down into three parts: reality, reconciliation and reconnection.
"The public realm is democratic ground that connects humans with the environment, yet the environment is not always for everyone," Gray said. "The world is rapidly changing, and the time is now to reinvent the practice of design for public space in response to social and environmental challenges. We need to reconnect people of color to the environment. Many people are commonly absent from the conversation regarding open space. The current minority population of the U.S. will become the majority in 20 years and the disciple of design needs to proactively prepare for this reality. Traditional Eurocentric models of planning and development have not accounted for the needs of all residents. Unfortunately, there are still many people who are left out of our collective design conversation. We must reverse the cultural perception that has systematically manifested oppression and encourage all people to embrace nature towards developing a positive environmental empathy."
This lecture is crafted to discuss the importance of fostering cultural diversity in design toward curating the public realm to take care of the needs of all the people. The planet is stressed due to human impacts and landscape architects, architects, planners, engineers, biologists and scientists to name a few have the insight to restore the earth. He will also discuss how design will bring people together to heal the planet from climate change, racism, consumption, species extinction and inequity.
As an EDSA studio leader with a 27-year career and experience in more than 30 countries, Gray's global management sense has positively shaped the outcomes of many environments. His heritage originates from Liberia, West Africa, which has influenced his sense of community-based design and placemaking. His portfolio ranges from large-scale planning to detailed site design, with emphasis on communities, parks, hospitality, urban public realms, health care and campus spaces. Blending sensitivity, context and creative design solutions, Gray unites a client's vision with his vanguard viewpoint producing designs with purpose and presence.
Domestically, his work includes parks and public realm experiences in rural and urban communities. His international experience encompasses the design for mixed-use destinations, resort communities, and large-scale parks in the Caribbean, North Africa, and the Middle East including a 5,000-acre Central Park in Cairo, Egypt. Currently, Gray is leading a team of designers and landscape architects on projects in Florida, Georgia, California, Virginia, Arkansas, Puerto Rico, Bahamas, China, Dubai, Egypt, India, Morocco, Saudi Arabia, Antigua and St. Lucia.
A registered landscape architect in Florida, Georgia, Arkansas, and Virginia, Gray is CLARB certified. After completing studies in architecture at the Boston Architectural College and Savannah College of Art and Design, he earned his Bachelor of Landscape Architecture from the University of Georgia. Regarding professional affiliations, he has been a member of the American Society of Landscape Architects, or ASLA, since 1999 and was inducted into the Council of Fellows in 2017. In 2018, Gray was elected to serve as ASLA vice president for professional practice on the Board of Trustees' Executive Committee. He has served the ASLA Florida Chapter on the Scholarship Committee and ASLA National on the Student and Professional Awards Jury, as well as the Annual Meeting Education Advisory Committee. He is a past president of the Landscape Architecture Foundation and an active member of the Urban Land Institute.
At EDSA, Gray's award-winning projects are inspired by a passion for creative design solutions that solve meaningful global issues. Gray has the keen ability to translate a community's vision to create places that intentionally relate to diverse generations. With an uncompromising dedication to quality, he consistently takes into consideration important factors like community, heritage, environment, and the constant pursuit of improving humanity through landscape architecture.
View a full listing of the 2021-2022 Ekdahl Lectures and view the live or recorded lecturers.
The Oscar S. Ekdahl Distinguished Lecture Series in Architecture and Design brings the finest professionals in the design and planning disciplines to APDesign and the K-State community. These individuals are selected to avail faculty, staff, students and regional professionals to the potency of design and planning in addressing the issues we face as a global society. The series honors Oscar Ekdahl who received his Bachelor of Architecture from Kansas State University in 1933 and was a founding partner in Ekdahl, Davis, Depew, Persson Architects PA in Topeka.