April 7, 2011
Percussion, dance ensembles bring Cuba to Kansas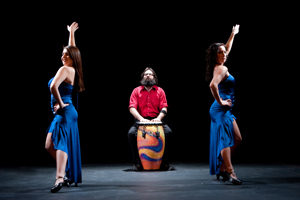 Why spend a Tuesday evening watching "Dancing with the Stars" on TV when Kansas State University's own stars will be live in Manhattan?
Dancers and musicians will be putting on Ritmos Cubanos, or Cuban Rhythms, to mark the culmination of a yearlong study of Cuban music and dance. The event is at 7:30 p.m. Tuesday, April 19, in McCain Auditorium.
Featuring some familiar styles like the cha-cha and salsa and some lesser-known folkloric tunes, Ritmos Cubanos will not only showcase the talents of many K-State artists, but also a broad taste of Cuban culture. Members of the Percussion Ensemble, the Latin Jazz Ensemble and Orquesta Tipica will be performing alongside K-State dancers. Tod Kerstetter, associate professor of clarinet, will be adding his talents to Orquesta Tipica. Other special guests include choreographer Victor Alexander Ramirez Pages and percussionist Ruben Alvarez, who both draw heavily from Latin influence.
"There's a certain dynamic to bringing dancers together with percussion, and Cuban music is highly vibrant," said Kurt Gartner, professor of percussion. "Each style is very different and distinct."
The collaboration is the brainchild of Gartner and Julie Pentz, associate professor and director of the K-State dance program. A Tilford Diversity Grant allowed the ensembles to broaden the experience and bring in valuable resources like Pages and Alvarez, Gartner said.
The performance is free and open to the public. It will be streamed live online. For the Web address, please refer to http://www.k-state.edu/music/percussion on April 19.
"It will be exciting and entertaining, as well as a little bit informative," Gartner said. "I had a teacher who said that we should be educating performers and performing educators, and I try to stay true to that."