March 18, 2013
Bimper discusses the 'elephant on the roster' at inaugural faculty showcase
Submitted by Communications and Marketing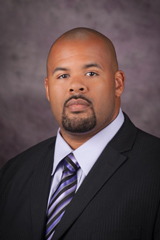 March 12 kicked off the Black Faculty and Staff Alliance's spring 2013 Faculty Showcase.
The monthly showcase spotlights research by black faculty and staff members, and is part of Kansas State University's sesquicentennial celebration. Albert Bimper, assistant professor of special education, counseling and student affairs in the College of Education, was the inaugural speaker.
Bimper's lecture, "Is There an Elephant on the Roster? Race, Racism and High Profile Intercollegiate Sport," looked the experiences of student athletes in higher education and sport and how those experiences can be enhanced to improve student athletes' education and increase their graduation.
Bimper spoke about his findings from interviews with student athletes, which he analyzed through critical race theory — an academic discipline that that combines race, law and power in a critical examination of society.
"Sport is one aspect of our society that many believe dismantles race," Bimper said. "Black student athletes have a complex sense of equal opportunity in the context of sport. It offers them a unique place where they see themselves as equal, though they still recognize that racism exists in the culture of sport. Practicing and playing together helps navigate race, but it doesn't transcend it."
Bimper took questions from the audience following his presentation.
The alliance's next luncheon will be from noon to 1 p.m. in April in the Hemisphere Room at Hale Library.