March 18, 2013
HALO salsa sold exclusively at the Cat's Den
Submitted by David Mejia-Zaccaro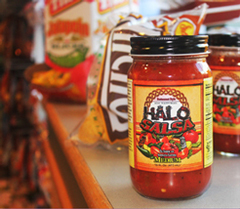 HALO salsa is a delicious, all natural, spicy, restaurant-style salsa. It is an FDA-approved food product made and bottled by professionals as a fundraiser for K-State's Hispanic American Leadership Organization.
The Hispanic American Leadership Organization, or HALO, at Kansas State University is a student group dedicated to promoting the Latino culture within campus and throughout Manhattan. Their goals are aimed to create student leaders that will uphold the well-being of the community and the student body while maintaining academic excellence.
It took around six months since the inception of the salsa idea to be finally brought to completion. Students wanted to create something original that diverged from the usual methods of fundraising, yet maintained a deep and intimate tie with our Latino culture.
After some research, David Mejia-Zaccaro, the organizaiton's president, was able to get a Colorado-based food manufacturing plant that was willing to produce the private label product.
Soon after, Mejia-Zaccaro spoke with the Cat's Den manager, Bill Wisdom, who provided the group with shelf space for the salsa.
The earnings from the salsa and other fundraisers go to HALO-sponsored events. Activities that the group has hosted in the past include Belleza Latina, Cesar Chavez March, EL Vez, also known as the Mexican Elvis, Fiebre Del Futbol and many others.
This delicious restaurant style salsa is made from all natural ingredients and can be acquired for $5 at the Cat's Den in the K-State Student Union.