August 27, 2021
James Roush new associate dean for academic programs and student success for College of Veterinary Medicine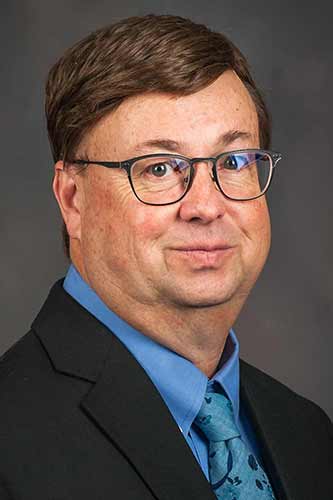 The College of Veterinary Medicine at Kansas State University has announced the appointment of James Roush as its new associate dean for academic programs and student success. Roush has served as the interim associate dean for academic programs and student success since January 2020.
Roush has been a faculty member at the College of Veterinary Medicine since 1989. He was appointed as the Doughman professor of small animal surgery in 2004 and has had this professorship renewed four times since the initial appointment. Roush is a diplomate of the American College of Veterinary Surgeons and holds a master's degree from the veterinary science department at the University of Wisconsin, Madison. In 2020, he was named among the World's Top 2% Scientists by Stanford University, based on research publications and citations by other scientists.
Dean Bonnie Rush said, "I am delighted to have Dr. Roush join the College of Veterinary Medicine administrative team permanently and look forward to working with him to advance the mission of the college. Dr. Roush helped CVM faculty and students navigate the lockdown portion of the pandemic and the rest of the school year under circumstances of distancing and hybrid learning. He is committed to student success with a strong passion for developing excellence in educating future veterinarians."
"I am honored by the recognition and support for what this college administration, faculty, staff and students have accomplished together over the past 18 months while I served in the interim position," Roush said. "I look forward to our continued progress while I serve as the associate dean of academic programs and student success."
Roush teaches veterinary surgery and an ethics and jurisprudence course for third-year veterinary students and clinical small animal orthopedic surgery for fourth-year students at K-State. He has also taught at the Nebraska School of Veterinary Medicine and Biomedical Sciences, St. Georges University as a visiting professor, and the University of Wisconsin, where he completed a residency and then served as a clinical instructor. He has trained nearly 50 residents and interns in surgery and small animal internal medicine.
Roush's research interests include bone healing and blood supply; osteoarthritis and articular cartilage healing; and gait analysis. He has 49 funded research grants, over 120 scholarly publications, 25 book chapters for academic textbooks and given over 100 national, regional and local presentations on veterinary surgery and advanced animal care.
Roush is a member of the American Association of Veterinary Clinicians since 1991; American College of Veterinary Surgeons since 1990; American Veterinary Medical Association since 1983; Veterinary Orthopedic Society from 1987 to 1998 and the American Veterinary Dental Society from 1987 to 1990.