July 22, 2021
Grain scientist receives Early Career Engineer of the Year Award
Submitted by Monica Macfarlane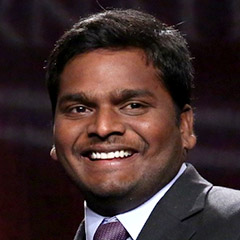 Kaliramesh Siliveru, assistant professor of grain science in the College of Agriculture, has been awarded the 2021 Early Career Engineer of the Year Award by the American Society of Agricultural and Biological Engineers' Association of Agricultural, Biological, and Food Engineers of Indian Origin. This award recognizes the outstanding engineering achievements in design, research, development, or management made by young professional agricultural, biological and food engineers in the past three years.
"Since joining the grain science and industry department in January 2018, Siliveru has established a very active research, teaching and outreach program in the areas of grain processing, materials handling and mathematical modeling that has caught the attention of the grain-based food and feed industry and attracted substantial funding in support of his efforts and program establishment," said Gordon Smith, grain science and industry department head.
Most cereal grains undergo different unit operations before reaching out to the consumer. Understanding the postharvest processes and processing characteristics of these granular materials is important to deliver a uniform and safe product to the growing population. To achieve the goal of delivering a uniform and safe product, Siliveru conducts research in milling technologies, food safety, process automation and simulation, particle technology, and materials handling. Most of Siliveru's research work is conducted collaboratively with faculty in the grain science and industry or biological and agricultural engineering departments, and with scientists from the USDA-ARS Center for Grain and Animal Health Research, as well as with other universities.
Siliveru's current research topics include the modeling the fumigation in grain storage structures to predict the fumigant transfer to enable the safe storage of grains; the development of novel milling methods for processing sorghum, with the aim of bringing back the ancient grain to the dinner table; the development of process kill steps for resolving the outbreaks of E. coli and Salmonella in wheat flours; and the flow characterization of food and feed materials.
Earlier this year, Siliveru was awarded the 2021 Andersons Early-in-Career Award of Excellence, by NC-213-the U.S Quality Grains Research Consortium, as well as the 2021 Gamma Sigma Delta Early Career Award, by Gamma Sigma Delta, the Honor Society of Agriculture, ETA Chapter, for his early-in-career achievements in the field of grain processing and storage.
Siliveru's faculty mentors, Charles Stark and Subramanyam Bhadriraju, are pleased to see his work recognized.
"Within a short period of time Dr. Siliveru has established an impactful research program on grain processing funded through federal and industry grants, and by training both graduate and undergraduate researchers," Bhadriraju said. "He also teaches undergraduate and graduate-level courses on grain processing and particle technology. The three early career awards he received are a testament to his significant impact on the improvement of grain handling and processing operations through research, teaching, and extension contributions."
Stark said, "The diversity of awarding bodies recognizing Dr. Siliveru's innovation in research and dedication to teaching demonstrates the impact of his work on the field of grain science and the great potential he has for future success in shaping the next generation of grain scientists."