June 30, 2021
Rebecca Gould to retire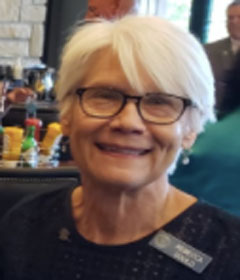 After 29 years at K-State as a faculty member in the College of Health and Human Sciences and simultaneously 20 years in the Division of Information Technology, Rebecca Gould will retire from K-State on July 9.
Gould began teaching in the then Department of Hotel, Restaurant, Institution Management and Dietetics in fall 1992. Drawn to K-State because of the excellent dietetic and hospitality programs and caliber of the students, faculty and staff, she taught courses in both areas from management of dietetics to tourism issues. Gould was one of the first five faculty users of the K-State Online learning management system and one of a team of faculty who delivered the first online dietetics programs in the country.
In 2001, Elizabeth Unger, recruited Gould to direct the Information Technology Assistance Center, or iTAC. Formerly housed on the third and fifth floor of Hale Library, iTAC was later consolidated on the second floor. iTAC's services included the IT Help Desk, desktop support, the Media Development Center, equipment checkout, management of the technology classrooms and centrally supported computer labs, the Network Operations Center, administrative access to systems and IT Communications. During her tenure, she worked with teams from across campus to consolidate four help desks into a central hub for IT support. She served on the teams bringing Service Now, Zoom, Qualtrics and Office 365, among other software, to campus. Gould and her team wrote the proposals and solicited the funds to install technology in more than 130 centrally scheduled classrooms.
On May 22, 2018, 100% of the iTAC area in Hale was damaged in the aftermath of the fire on the roof of Hale. Gould and the team quickly restored the IT Help Desk by 8:30 a.m. the following morning and the rest of the services within a week. Prior to the start of school in August of 2018, services had been relocated across campus.
Gould is most proud of working with IT staff from across campus who give countless hours to continuously improve the infrastructure and the services offered to K-State. Join us in a card shower for Rebecca.  Cards can be sent to Rebecca Gould, c/o Kelly Moon, 116 Unger Complex, 2323 Anderson Ave., Manhattan KS 66502.