June 14, 2021
K-State Soil Judging Team places sixth at national contest with top individual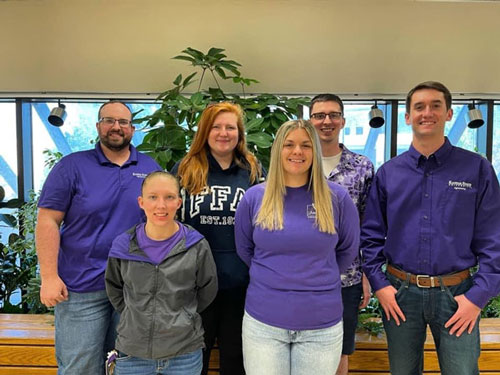 K-State's Soil Judging Team recently competed in the 2021 National Soil Judging Contest, which was conducted in a virtual format for the first time in its history. A total of 21 teams comprising 140 students competed in this year's contest. The K-State team performed well, placing sixth overall. Team member Jagger Borth placed first overall as an individual contestant.
In a traditional in-person contest, teams would travel to a host institution where they would get to describe some practice soil pits in preparation for the official contest consisting of three individual soil pits and two group pits. Due to restrictions related to COVID-19, the contest organizers pivoted to a virtual format. The virtual contest had three components for each individual and team to complete: describing a soil pedon; soil texture contest; and soil feature identification test. The soil pedons came from all over the U.S., offering diversity in soils not typically seen in a traditional contest format.
Team members include Jagger Borth, agronomy, Meade; Katie Fross, agronomy, Hays; Abigail Kortokrax, agronomy, Azle, Texas; Isaiah Euler, geology, Overland Park; Jacoby Kerr, agronomy, Manhattan; Tom Torres, agriculture education, Lamar, Colorado; Colton Vajnar, biological systems engineering, Hays; and Sydney Baughman, agriculture education, Moberly, Missouri.
The Soil Judging Team is coached by DeAnn Presley, professor of agronomy; Colby Moorberg, assistant professor of agronomy; and assistant coach Jake Ziggafoos, graduate student in agronomy.
The contest is an activity of the American Society of Agronomy and the Soil Science Society of America.