June 14, 2021
APDesign landscape architect receives TreanorHL Faculty Award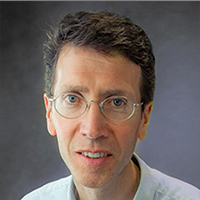 Lee Skabelund, associate professor of landscape architecture in the College of Architecture, Planning & Design, has been awarded the TreanorHL Faculty Award for 2021. This award recognizes outstanding efforts by faculty leveraging ties to design practitioners and allied industry partners to advance educational opportunities for our students.
Skabelund has taught courses in Landscape Ecology, Land Analysis & Site Planning, Environmental Issues & Ethics, Planting Design, Research Methods, Natural Systems and Site Analysis, Natural Resources & Environmental Science, Ecological Planning, Design & Management, Landscape Architecture Design Studios, and Environmental Impact Assessment. He has worked in both public and private practice, and of particular note, led work on the following planning/design efforts: Ecological Restoration and Construction Administration at Furstenberg Nature Park in Ann Arbor, Michigan; the Sustainable Development of Forestlands Project in Southwest Virginia and Tom's Creek Riparian Restoration Project in Blacksburg, Virginia; and the Kansas State University Stormwater Management Project, which is ongoing.

"It is fitting that Lee be chosen as the 2021 TreanorHL Faculty Award recipient," said Tim de Noble, dean of APDesign and fellow of the American Institute of Architects. "He continues to successfully leverage his ties to allied industries, particularly those involved in living rooves, evidenced not only by the financial support and toward his research efforts, but also by the growth in the number of green roofs on our K-State campus. He is a superb educator and academic whose example serves to raise the bar for all our faculty."

"Lee's collaborations with professionals and industry have created a broad and sustained array of learning opportunities associated with the K-State green roofs for a diverse set of students," said Stephanie Rolley, professor and department head for landscape architecture and regional & community planning. "For example, over the last year, Lee included a developing scholar interested in architecture, Master of Landscape Architecture students in his courses, and environmental design and planning doctoral students in research supported by JBC, a Kansas City landscape architecture firm, and Buildex, a company producing planting medium for green roofs."

The TreanorHL Faculty Award, established in 2014 is generously underwritten by the architecture, design and engineering firm. TreanorHL is a multidisciplinary firm with nine offices throughout the United States with headquarters in Lawrence.