March 11, 2013
John English to lead College of Engineering at the University of Arkansas
Submitted by Communications and Marketing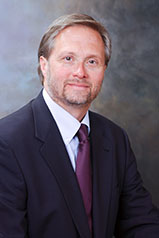 John English, dean of Kansas State University's College of Engineering, has accepted an offer to head the College of Engineering at the University of Arkansas beginning July 1.
English, the Leroy C. and Aileen H. Paslay chair in engineering, was appointed dean at Kansas State University in April 2007.
"It has been an honor and privilege serving the college's faculty, students and constituents," English said. "I'm proud to have helped play a role in the college in advancing its reputation of excellence in engineering education and research. The financial support of our donors and research sponsors has been incredible!"
In his tenure, English has seen the college's engineering programs ranked among the best in the nation by U.S. News & World Report -- best undergraduate, graduate and online graduate programs -- and helped the university build the largest engineering school in Kansas.
English has been instrumental in helping the college rise to Kansas Gov. Sam Brownback's challenge for the state to graduate more skilled engineers. Engineering is the most popular major at Kansas State University, and the college graduates more engineering students annually than any other Kansas university and engineering school.
"John has been instrumental in elevating the reputation of the college through his extraordinary leadership in shaping academic programs, recruiting distinguished faculty and promoting research," said Kansas State University President Kirk Schulz. "The vision he created for the college in 2008 is one that is congruent with Kansas State University's vision to be recognized as a Top 50 public research university by 2025, and one that has been a cornerstone in the university's successes to date."
Under English, the college has created partnerships with industry leaders like BNSF, Garmin and Burns & McDonnell.
The college also has led the campus in fundraising, exceeding all units in 2009 and 2010.
Additionally, English has been active on a national level in shaping the future of engineering education, serving on significant committees in his professional organization, the Institute of Industrial Engineers; as a member of the board of directors for the Reliability and Maintainability Symposium; and attending national meetings of engineering deans.
"The College of Engineering and Kansas State University has benefited tremendously under John's leadership," said Kansas State University Provost April Mason. "He has helped invigorate the college, and we've seen students, faculty and stakeholders respond enthusiastically to that. We are grateful for John's service and wish him success in his new position."
English received his bachelor's degree in electrical engineering and master's degree in operations research from the University of Arkansas. He earned his doctorate in industrial engineering and management from Oklahoma State University.
Kansas State University will conduct a national search for the next dean of the College of Engineering.