May 3, 2021
Anatomy and physiology department to host final seminar of spring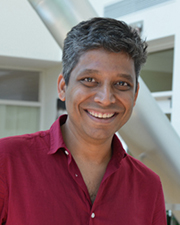 Kansas State University's anatomy and physiology department will host its final seminar of the spring semester at 4 p.m. on Tuesday, May 4, via Zoom. Jai Subramanian of the University of Kansas School of Pharmacy will present "Visualizing synaptic pathology in vivo in mouse models of Alzheimer's disease."
During Subramanian's postdoctoral research, he used in vitro and in vivo imaging technologies to understand mechanisms of synaptic plasticity in mouse cortical neurons.
Subramanian's research focuses on synaptic plasticity associated with learning and memory and their dysfunction in mouse models of neurodegenerative disorders.
His lab utilizes state-of-the-art approaches, such as single-neuron genetic manipulations, in vivo synaptic labeling and multicolor two-photon imaging.