April 20, 2021
Vice President and Chief Operations Officer Bontrager to retire in September
Submitted by Communications and Marketing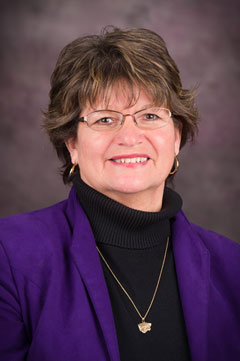 After more than 37 years in higher education, Cindy Bontrager is retiring as vice president and chief operations officer for university operations on Sept. 24. Bontrager supervises all facilities planning and maintenance, risk and compliance, police and public safety, environmental health and safety, parking and the administrative support center in her current role.
"Vice President Bontrager has been a dedicated servant to higher education in the state of Kansas and her alma mater, Kansas State University," said Richard B. Myers, university president. "She has always exhibited the positive, can-do attitude that exemplifies a true K-Stater. Under her leadership, the face of our Manhattan campus has been truly transformed."
Bontrager served in K-State's budget office from January 1989 to April 1998, returning in July 2003. After a brief assignment at the Kansas Department of Insurance, she was at the Kansas Board of Regents from July 1998 to July 2003. She was named K-State's interim vice president for administration and finance in October of 2012 and assumed the role on permanent status in 2014. The unit was reorganized in 2019 and she assumed her current role.
During her tenure as vice president, Bontrager oversaw a tremendous building boom on campus and led efforts to significantly upgrade critical infrastructure. This includes an expansion of the Manhattan campus chill plant and the steam pipe distribution system and a major renovation of the electrical systems in existing campus buildings. Major building projects included the College of Business Building, Engineering Building Phase IV Addition, Student Union renovation, Wefald Hall, the Berney Family Welcome Center, Seaton Hall expansion, the Morris Family Multicultural Center and renovation of Hale Library.
"My experience at K-State has truly been priceless," Bontrager said. "Working with students, faculty and staff who are passionate and care about this university has been very rewarding. There is still much to do, but I'm leaving the university in very good hands. I'm looking forward to new adventures in my life with family and friends, but I will always look back fondly at my time at Kansas State."
Bontrager holds bachelor's degrees in both business management and political science from Kansas State University and a Master of Business Administration from the University of Kansas.
Details on a replacement search will be announced at a later date in K-State Today.