April 6, 2021
Associate Provost Brian Niehoff to retire in June
Submitted by Division of Communications and Marketing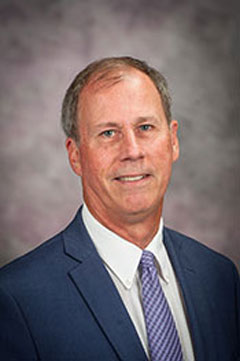 After nearly 33 years of service to Kansas State University, Associate Provost for Institutional Effectiveness Brian Niehoff will retire on June 12.
As associate provost, Niehoff's work has included university accreditation, which he coordinated in 2012 with the Higher Learning Commission. Niehoff also supervises two reporting units of the Office of Institutional Effectiveness: the Teaching and Learning Center and Honor and Integrity System. He oversees programs that help develop and mentor faculty and administrators and that recognize and reward outstanding faculty, including coordinating the selection of university distinguished professors.
Niehoff has been a member of the provost's staff since 2009. In June 2018, he was named acting provost before the arrival of current Provost Charles Taber. Niehoff also had oversight over two units — the Office of Assessment and Office of Planning and Analysis — until the merger of the offices and hiring of the associate provost for institutional research and assessment.
"I am so appreciative of Brian's long and varied tenure in the Provost's Office and I wish him the very best in retirement," Taber said. "Brian has handled a wide range of responsibilities and provided exceptional leadership in every role he has held. His faculty background and department head experience have been invaluable for the Provost's Office."
Niehoff also serves as professor of management in the College of Business Administration. He joined K-State in fall 1988 as an assistant professor, earned tenure and became associate professor in 1993. He was promoted to professor in 2002. He has taught undergraduate and graduate courses in organizational behavior, organizational training and development, entrepreneurship and international management. He served as the department head of management from 2000-2009.
He earned his bachelor's degree in mathematics from St. Joseph's College in Indiana and then spent more than six years as a computer programmer for various companies. He then returned to school, earning his Master of Business Administration and doctorate in organizational behavior from Indiana University. Niehoff has published dozens of research articles and book chapters in a variety of journals. His research focuses on leadership, workplace justice, organizational citizenship behaviors, mentoring and the effect of immigration on human resource practices. He also has served on or chaired numerous committees for the college and university.