April 6, 2021
Online Journal of Rural Research and Policy seeks papers for special COVID-19 issue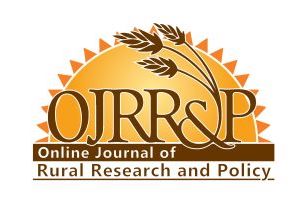 The Online Journal for Rural Research and Policy, a publication of the Chapman Center for Rural Studies, seeks papers for a special issue to examine the impact of COVID-19 on rural communities and landscapes. Research topics may include, but are not limited to public health, education, mental health, economic impact and discourse narratives about the pandemic.
Prior research has demonstrated that rural communities in the U.S. often have fewer medical, social and educational resources when compared to urban hubs (Hartley, 2004; Bard, Gardener and Wieland 2006). Catastrophic events can exacerbate such inequalities leading to increased mortality rates and straining already overburdened educational and social systems. For example, lack of broadband in rural communities raises challenges to students who may not be able to attend in-person schools and puts pressure on school systems to maintain in-person classes, while also exacerbating isolation as online communication rapidly grows in the face of travel restrictions. At the same time, rural communities remain key components of essential agricultural supply chains, feeding the nation despite new challenges introduced by pandemic conditions. We seek research that documents the impact of COVID-19 on rural communities, provides historical context, or identifies strategies to improve resiliency and sustainability among rural communities.
Requirements for submission
The Online Journal for Rural Research and Policy is a peer-reviewed, online publication. It publishes academic and community-based research, commentary, and policy articles focused on rural places and spaces. We encourage the submission of works from a broad range of fields examining the Great Plains in a way that is of interest to both academic and community audiences. The goal is not only to present theory, but to stimulate discussion, encourage more research on rural issues, and improve access to information that promotes decision-making that enhances rural people and places.
Word limit: 5,000-10,000 words, but longer papers are considered; tables and references do not count toward the word limit. Supplementary materials may be added as a separate document, do not count toward word limit, and have no word limits. We do not have formatting requirements on initial submission; any consistent academic style — APA, MLA, Chicago, etc. — will be considered.

For information on whether your work fits with the mission of the journal please contact either Tuan Nguyen at  nguyetd1@k-state.edu or Mary Kohn at  kohn@k-state.edu.