March 5, 2013
Documentary 'Bullied: A student, a school and a case that made history' being shown at K-State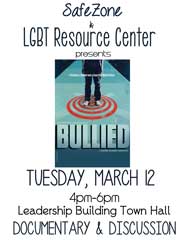 From 4-6 p.m. Tuesday, March 12, SafeZone, LGBT Resource Center and counseling services at K-State will come together to bring an inspiring, powerful documentary to campus at Town Hall in the Leadership Studies Building.
"Bullied" is a documentary film that chronicles one student's ordeal at the hands of anti-gay bullies and offers an inspiring message of hope to those fighting harassment today. It can become a cornerstone of anti-bullying efforts in middle and high schools.
"Bullied" is designed to help administrators, teachers and counselors create a safer school environment for all students, not just those who are gay and lesbian. It is also intended to help all students understand the terrible toll bullying can take on its victims, and to encourage students to stand up for their classmates who are being harassed.
The film has been endorsed by the National Education Association. Register at to watch the film.