March 11, 2021
K-State Online partners with Bill Snyder Highway Half and 5K to support online students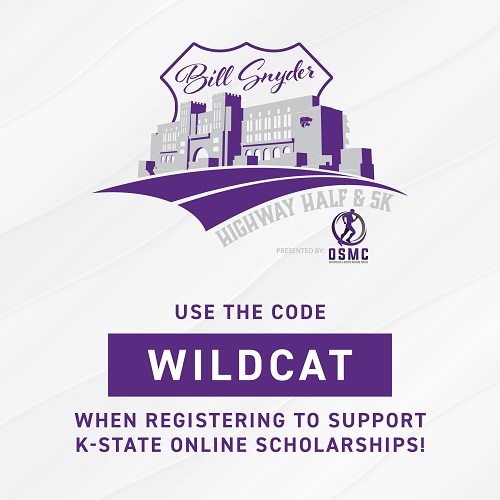 K-State Online has partnered with the 2021 Bill Snyder Highway Half and 5K races to support scholarships for online students.
Participants who register with the promo code "WILDCAT" will have a portion of their registration fee go to support K-State Online students, regardless of whether they choose to run the in-person race or complete it virtually. The virtual race option allows anyone, including K-State Online's vast network of students and alumni in all 50 states and more than 30 countries, to participate in the annual race for the first time. Read more information on the virtual race.
"This opportunity is a win-win for the K-State community," said Karen Pedersen, dean of Global Campus, the administrative home of K-State Online. "This is such a simple way to help generate scholarship funds for online students who often aren't eligible for other scholarship opportunities, and for those already planning to run the race, it comes at no additional cost to participants."
Each participant will receive the Bill Snyder Highway Half and 5K T-shirt as well as a finisher medal. In addition to supporting student scholarships by using the code "WILDCAT," the races also benefit a trio of charities in the Manhattan community.
Now in its seventh year, the Bill Snyder Highway Half and 5K races are coordinated by local retailer Manhattan Running Company. For in-person runners, the half marathon begins near Interstate 70, with participants running through downtown Manhattan, Aggieville and the K-State main campus before finishing on the field at Bill Snyder Family Stadium. The 5K race will start and end at Bill Snyder Family Stadium.
Virtual participants have more flexibility in completing the race. They can track their run using GPS or an online mapping device, have an extended cap on the run times — six hours for the half marathon and three hours for the 5K — and can complete their run anytime between May 1-22 without a minimum pace to keep.
For more information or to register, visit the race website. Don't forget to use the code "WILDCAT" to help us support online student scholarships.