February 27, 2013
Ricketts to cover illustration of educational concepts with simple technologies at ITL conference March 4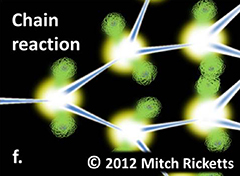 Nuclear fission. Airway reactions to asthma. Common injuries to cattle handlers near pens. A mystery in a railroad tanker. These are all scenarios that Mitch Ricketts has illustrated for his safety trainings and courses.
Ricketts will explore methods for creating visual instructional materials using simple software tools such as PowerPoint, basic photographic equipment and free software.
Ricketts, a safety coordinator at K-State's Agricultural Experiment Station and member of the graduate faculty, will present "Illustrating Educational Concepts: How to Create Custom Drawings, Animations and Videos Using Simple Technology" at the Innovations in Teaching and Learning conference from 1:30-2:30 p.m. Monday, March 4, in the Flint Hills Room of the K-State Student Union.
See the full article in the IT News blog.