February 27, 2013
Konza Prairie to offer guided public hikes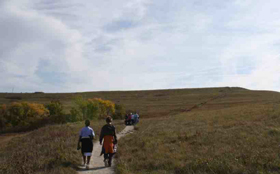 Konza Prairie will begin offering guided hikes for the public every Saturday beginning 1 p.m. Saturday, March 2.
Trained naturalists will be leading these hikes and will lead visitors on a 2.6-mile hike of the Konza Prairie Nature Trail. Expect a relatively vigorous hike for about an hour and a half where you can get your biology, geology and history questions answered.
These hikes will be offered every Saturday and do not require reservations. There is a $2 trail use fee. If you have questions call Jill Haukos, director of education, at 785-587-0381.