February 26, 2013
K-State Inline Hockey Club wins trophy at the Great Plains regional playoffs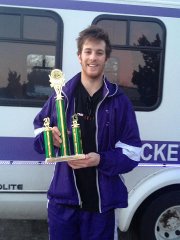 The Great Plains Collegiate Inline Hockey League's regional playoffs were last weekend in St. Louis.
The K-State hockey club played its first game Saturday night and defeated Maryville University to advance to the semifinals. Sunday the club played Washington University, which had defeated K-State in Manhattan two weeks ago. Not this time.
The club played very well and advanced to the regional finals for the first time in its history. Although we were defeated by Mizzou, it is the best regional finish the club has ever had. Our strong finish should put us in good position to receive one of the bids to this year's National Invitational Tournament in April in Fort Myers, Fla. Those bids will be announced Tuesday, March 5.
Congrats to the K-State Inline Hockey Club. Members will spend the next month preparing for nationals.