February 25, 2013
College of Education's Morales receives Outstanding Dissertation Award
Submitted by Communications and Marketing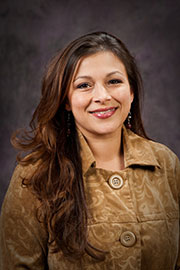 The American Association of Colleges for Teacher Education will present Amanda Morales, assistant professor of curriculum and instruction, with its 2013 Outstanding Dissertation Award. Morales was selected for her study of factors of resiliency, persistence and racial uplift among nontraditional, Latina English language learners in teacher education.
The award, which recognizes excellence in doctoral dissertation research that contributes to the knowledge base of educator preparation or of teaching and learning with implications for educator preparation, will be presented March 2 at the association's 65th annual meeting in Orlando, Fla. Morales is one of two recipients of the award for 2013.
Morales completed her dissertation in 2011 under the advisement of Gail Shroyer, head of the curriculum and instruction department. Her dissertation, "Factors That Foster Latina, English Language Learner, Nontraditional Student Resilience in Higher Education and Their Persistence in Teacher Education," grew out of her work with a team of educators from the College of Education, College of Arts and Sciences and K-12 schools to design and implement a distance-based, nontraditional teacher education program for Latina English language learners in the southwest region of the state.
She served as an adviser, instructor and mentor for two cohorts of candidates who completed this innovative program, graduating over 30 students who are now serving as English as a second language-endorsed elementary teachers to meet the needs of students in this highly diverse region of Kansas.
"Amanda's dissertation has the potential to make significant contributions to the strategies we use to recruit, advise and retain diverse students in teacher education," said Debbie Mercer, dean of the College of Education. "Through both her scholarship and teaching, I believe she will make an impact on higher education and provide enhanced educational opportunities for multitudes of future students in our educational system. We are honored to have Dr. Morales represent the K-State College of Education by receiving this prestigious award."