January 19, 2021
K-State's Cheryl Grice recognized with MLK community service award
Submitted by Communications and Marketing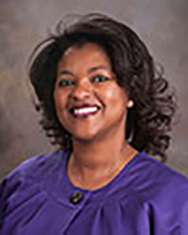 A longtime Kansas State University administrator and Manhattan community service volunteer is being honored for her commitment to her community and serving others.
Cheryl Grice, director of strategic relations at Kansas State University, is the recipient of a 2020 Spirit of Dr. Martin Luther King Jr. Community Service Award from the Manhattan Martin Luther King Jr. Memorial Celebration Committee. She and the two other recipients of the honor were honored in a virtual celebration on Jan. 16.
Nominees for the award must be current Manhattan residents who are active in the community, have shown demonstrated service and long-term commitment in uniting the diversity of the community for the greater good, and have an established record of bringing people together in a non-polarizing manner.
Grice meets and exceeds all of the criteria for the award, according to Pat Hudgins, a previous recipient of the award. Hudgins, associate director of the K-State Career Center, nominated Grice for the award.
"I have known Dr. Cheryl R. Grice for the length of time she has resided in Manhattan, Kansas, and can attest that she goes above and beyond to give of her time and service to this community," Hudgins said. "She serves on many committees ready to extend a hand and sincere heart to remember our most vulnerable and at-risk citizens in many ways."
A Manhattan resident for more than 25 years, Grice has been a dedicated community volunteer and leader. She has served with many organizations that work to improve the lives of the community's residents, including the Flint Hills Breadbasket board of directors, Konza United Way board of directors, Fairy Godmothers Fund, P.E.O., Manhattan Chamber of Commerce board of directors, Boys and Girls Clubs of Manhattan, Little Apple Pilot Club, Wonder Workshop Children's Museum advisory board, USD 383 Diversity Commission, Mayor's COVID-19 Recovery Taskforce and Manhattan's Social Services advisory board.
One of Grice's most recent community service projects was leading a collaborative initiative with the Riley County League of Women Voters, Alpha Kappa Alpha Sorority and the county's aTa Bus service to provide voters with free rides to the polls during the November 2020 general election.
For her service and dedication, Grice has been recognized with the Be the Change Award from the K-State Campaign for Non-Violence, the Greater Manhattan Community Foundation Volunteer of the Year and the 2019 Manhattan Area Chamber of Commerce C. Clyde Jones Volunteer of the Year Award. She is a graduate of Leadership Manhattan and the James Coffman Leadership Institute.