January 8, 2021
New year, new start with Recreational Services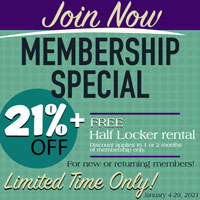 It's a new year and time for a new start.
Recreational Services is offering new members or returning members a 21% off membership discount when you purchase one month or two months of membership — and you will receive a free half-locker rental.
Purchase the membership before Jan. 29. Some restrictions may apply.
Recreational Services is also offering virtual personal training. You do not have to have a current Rec membership to purchase sessions. You must be a current K-State student, employee, or K-State Alumni Association member to quality.
For complete details on both specials visit the website.