February 21, 2013
Invested faculty: Faculty over age 50 inaugural event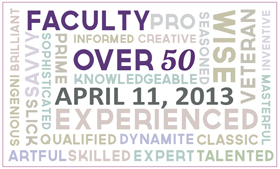 How do you stay engaged? What motivates you? Faculty over the age of 50 have a wide array of wisdom and many experiences to share — we want to know what's on your mind. What do you want from K-State? What do you think invested faculty have to contribute to K-State 2025? What can we do as an institution to energize you?
There is value in what we possess as we age and we want to support the soil of this institution: our committed, loyal base of faculty. We hope to facilitate your questions, concerns and much more at our inaugural event on April 11. Don't miss this exciting event for faculty over 50 — we'll be checking IDs at the door!
Registration is coming soon, so please check our website at http://www.k-state.edu/catl/facultyover50/index.html for more details.

If you have any questions, please contact Jana Fallin at the Center for the Advancement of Teaching and Learning at jfallin@k-state.edu, call 785-532-7828 or stop by and visit us at 215 Fairchild Hall — through the purple door.