December 18, 2020
Beth Montelone to serve as interim vice president for research
Submitted by Communications and Marketing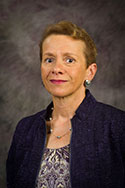 A highly experienced researcher and administrator will serve as Kansas State University's interim vice president for research. After an internal search, K-State President Richard Myers has appointed Beth Montelone, the university's senior associate vice president for research, to the post.

Montelone's appointment takes effect on Jan. 3, 2021. Current vice president for research, Peter Dorhout, is leaving K-State to become Iowa State University's vice president for research in January.

"A longtime researcher and administrator, Dr. Montelone has extensive knowledge of K-State's research enterprise and is ready to step in and guide the university's research efforts while a national search is conducted to find our next vice president for research," Myers said.

In her new role, Montelone will be responsible for encouraging and facilitating the integration and enhancement of research and scholarly work activities across the university's colleges and multiple research centers, and will lead universitywide strategic research growth activities. She will provide leadership for the acquisition of research funding, the planning and development of academic research space, patenting, commercialization, the incubation of new companies and recruiting of corporate research partners, and public outreach.

Montelone has served as senior associate vice president for research since 2017 and is responsible for operations and staff of the Office of Research Development. The office monitors funding opportunities from federal, state and private sources for an online database and conducts three internal small grants programs — Faculty Development Awards, Global Food Systems Seed Grants and University Small Research Grants — that provide funding for international scholarly travel, starter grants and supporting work in disciplines in which it is difficult to obtain external funding. In addition, the office conducts multiple training and awareness sessions on a wide array of funding activities for faculty, graduate students and postdoctoral researchers.

Before joining the Office of the Vice President for Research, Montelone served as associate dean for research for the College of Arts and Sciences from 2004 to 2016 and was interim research director at the Biosecurity Research Institute from 2008-2011. Among her many other leadership roles include serving as associate director and acting director of the Division of Biology.

A professor of biology, Montelone joined K-State in 1988. She is a member of the graduate faculty in the biology, genetics and Master of Public Health programs. Her research in DNA repair, mutagenesis and science outreach has been funded by the National Institutes of Health and the National Science Foundation.

Montelone also has had key leadership roles in several university research and outreach initiatives. She directed the Pathways to Public Health and One Health Kansas education and outreach projects funded by the U.S. Department of Agriculture and the Kansas Health Foundation. She was a co-principal investigator of a five-year, $3.5 million National Science Foundation grant K-State received for the ADVANCE Institutional Transformation grant to improve the recruitment, retention, and success of women faculty members in the sciences and engineering. She also was the principal investigator for the NSF grants which helped establish the GROW — Girls Researching Our World — program at K-State, which encourages girls' interest in science, technology, engineering and mathematics.

In addition, Montelone is currently a co-principal investigator of the Kansas Louis Stokes Alliances for Minority Participation project funded by the NSF to increase degree attainment in STEM fields by diverse students.

Montelone received a bachelor's degree in biology from Rensselaer Polytechnic Institute and a master's degree and a doctorate in biology from the University of Rochester. She carried out postdoctoral research at the University of Miami School of Medicine and the University of Iowa.