December 17, 2020
Education professor's new book a resource for teaching culturally diverse learners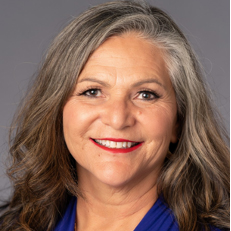 Educators of culturally diverse learners have a powerful new resource packed into a 192-page book co-authored by Socorro Herrera, Kansas State University College of Education professor and director of the Center for Intercultural and Multilingual Advocacy.

Herrera was the lead author of "Equity in School-Parent Partnerships: Cultivating Community and Family Trust in Culturally Diverse Classrooms," which was published and released Nov. 30 by Teachers College Press in New York. The book was co-authored by Lisa Porter, assistant professor of sociology at James Madison University, and Katherine Barko-Alva, assistant professor and director of the ESL/bilingual education program at the William & Mary School of Education.

A renowned subject matter expert in the field of culturally diverse learners, Herrera pioneered the learning strategy of biography-driven culturally responsive teaching. Paul J. Kuttner, associate director at University Neighborhood Partners at the University of Utah, reviewed Herrera's book.

"This thin, idea-packed textbook proposes a critical reimagining of family-school partnerships in U.S. classrooms," Kuttner wrote. "The authors argue compellingly that, in our rush to create strategies and plans, we are not addressing the root of the problem."

"Families are the heart of the work we carry out in schools," Herrera said. "Yet, as educators, our preparation and guidance have not moved us toward drawing from their experience and knowledge to inform our practice. My colleagues and I write this book drawing from our own experiences both personal and professional. Envisioning the possibilities for families and students when an asset perspective is used to engage and collaborate with them. It is imperative that we begin work with families and communities if we are to move toward an equitable and justice-oriented society."