December 16, 2020
National association selects Juergen Richt for research award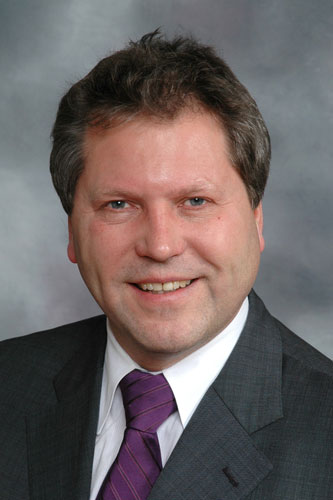 The Association of American Veterinary Medical Colleges, or AAVMC, has announced the recipients of its annual awards that recognize professional excellence, achievement and service in academic veterinary medicine. Among these awards was the 2021 AAVMC Excellence in Research Award, which was presented to Juergen Richt from the Kansas State University College of Veterinary Medicine.
The AAVMC Excellence in Research Award is sponsored by Elanco and designates the outstanding veterinary medical researcher of the year, as selected by a committee of peers. The Association of American Veterinary Medical Colleges' board of directors established the annual research award in 2010 to recognize outstanding research and scholarly achievements in the field of veterinary medicine. It recognizes an individual who, over the course of his or her career, has demonstrated excellence in original research, leadership in the scientific community, and mentoring of trainees and colleagues in any discipline of veterinary medicine.
Richt is the Regents distinguished professor at K-State. Richt investigates zoonotic, emerging and transboundary diseases of livestock, focusing mainly on viral diseases. His work has led to strategies to identify, control and/or eradicate pathogens with significant impact on veterinary medicine, human health and food security. His recent work focuses on the establishment of preclinical animal models for SARS-CoV-2 to evaluate the efficacy of vaccines and therapeutics for COVID-19.
The Association of American Veterinary Medical Colleges' professional awards, as well as a student scholarship award, will be presented at its 2021 annual conference and Iverson Bell Symposium, which will be conducted virtually March 3-5, 2021.
"These awards recognize outstanding veterinary medical educators who excel in various areas of academic veterinary medicine," said Association of American Veterinary Medical Colleges Chief Executive Officer Andrew T. Maccabe. "Their leadership and dedication serves as a model of excellence for their colleagues and inspires upcoming generations of veterinarians. We look forward to honoring these extraordinary individuals and recognizing their achievements during our 2021 annual conference."