December 10, 2020
Redeker leaving K-State to become general counsel at university in Utah
Submitted by Communications and Marketing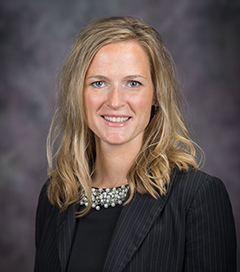 Deputy general counsel Maureen Redeker has been named the general counsel at Southern Utah University in Cedar City, Utah. Redeker will serve as SUU's chief legal officer and oversee the university's legal office. She will begin her new position in early January 2021.
"Maureen has had a distinctive career in Office of the General Counsel," said Shari Crittendon, K-State general counsel. "Her keen, in-depth and insightful legal, policy and institutional knowledge are remarkable and will leave an indelible legacy. We join in the Kansas State University community in wishing her success in her next professional adventure."
Redeker joined the K-State Office of General Counsel first in 2011 as a staff attorney and then returned in 2013 as an assistant general counsel, was promoted to associate general counsel, and then was promoted to her current position as deputy general counsel. Earlier this year, K-State President Richard Myers also appointed Redeker as acting general counsel for three months after Cheryl Strecker retired in April.
She has advised administrators across campus in all legal areas affecting the university, including data privacy and security, research compliance, complex contracts, risk management, student conduct and activities, employment law, Title IX, and international activities. She has been an invited speaker to university attorney national audiences in the areas of threat management, disability law, and student organizations.

Before joining K-State, she was an administrative law attorney for the U.S. Army at Fort Riley, a litigation attorney for another Kansas state agency, and an associate attorney at a large international law firm in Kansas City. She began her career as a federal judicial clerk to Judge John Lungstrum of the U.S. District Court for the District of Kansas.

"I have enjoyed my work at Kansas State University and will miss the many exceptional individuals with whom I have interacted here and in the Manhattan community over the last decade," Redeker said. "I very much look forward to the great opportunity to serve as general counsel at Southern Utah University. SUU is a growing university and its mission emphasizes experiential learning opportunities for students, which is an area that I've had extensive experience in at K-State. My family and I also are excited about the adventures that await us in southern Utah, including the many amazing outdoor recreation opportunities."

See Southern Utah University's announcement here.