November 19, 2020
Students helping the homeless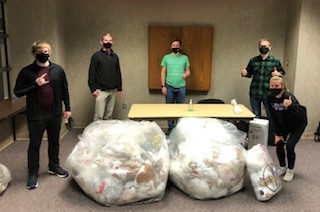 After collecting plastic bags on campus, five K-State students — Andrew Phipps, Conner Chism, Christopher Hatch, Emma Pettay and Jared DeWeese — tied more than 770 plastic bags last week to make plastic mats for the homeless in the Kansas City, Kansas. area.
They will work on tying the remaining 1,500 bags together prior to the holiday break. These 2,270 bags will make approximately five mats for needy people to rest. Phipps, who resides in the Kansas City, Missouri, area will distribute the mats before the Christmas holiday,
The 2,270 bags were collected from five plastic recycling containers set up and maintained by the K-State Recycling Center personnel for a 30-day period at K-State.
Great teamwork for a great cause.