February 18, 2013
Thompson to receive lifetime achievement award from national education finance organization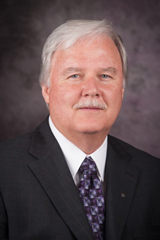 A College of Education professor who dedicated his professional life to improving school finance is being recognized with a lifetime achievement award.
David Thompson, professor and chair of the department of educational leadership, will receive the Lifetime Achievement Award from the National Education Finance Conference, or NEFC, a community of scholars devoted to the study and improvement of education funding structures in the United States and other countries.
According to Faith E. Crampton, chair of the selection committee, Thompson was the committee's unanimous choice.
"Each year, NEFC recognizes an individual who has contributed to education and the funding of education for a lifetime," Crampton said. "This recognition is intended to applaud the efforts of individuals who devote their professional career and energy to funding education for all learners. Given Professor Thompson's outstanding scholarly contributions to the field of education finance, the award is richly deserved."
Thompson will receive the award at the organization's annual conference in Indiana later this spring.
"The award is particularly meaningful to me because NEFC's selection process is by strenuous committee review, and the award is meant to honor contributions to scholarship that advances the profession and benefits the practice of education," Thompson said. "I am tremendously honored to join the past recipients of this prestigious recognition."
Dean Debbie Mercer believes Thompson's work will continue to have a far-reaching effect.
"David has long been recognized as a premier scholar within our college," Mercer said. "This national recognition for his body of research is well deserved as his contributions have truly impacted both educational finance policy and the application of those policies in implementation strategies for schools. With more than 200 universities using one of his textbooks, his scholarship will influence generations to come."
The vast majority of Thompson's 39-year career has focused on how the courts are involved in the funding of schools. More specifically, his scholarly pursuit expanded to include the intersection of school finance and its impact on social justice.
"Throughout my career, I have had a deep interest in both the structural side of how P-12 — pre-kindergarten through high school — schools are funded and in the public policy impacts of legislative and judicial decisions affecting public school finance."
Thompson served as a school superintendent before joining the K-State faculty in 1987. In 1993 he was named chair of the department, and in 2012 was selected the Kansas State University Presidential Outstanding Department Head. From 1989-2006, Thompson was the founding co-director of the University Council for Educational Administration's Center for Education Finance.
National and international journals have sought out Thompson for his expertise.
"I have served on the authors committee and editorial board of West's Education Law Reporter, and I presently serve as legislative editor for the Journal of Education Finance, which is the official journal of the NEFC, a board role I've held for more than two decades," he said. "I have been additionally privileged to serve as chair of the board of editors of the journal Educational Considerations, published here at Kansas State University, a role I've held since 1990. I am particularly gratified that Educational Considerations is an affiliate journal to the NEFC."
In addition to this lifetime achievement award, Thompson's distinguished career and scholarly contributions have meaningfully shaped the national conversation concerning school finance. A brief list of his impact includes:
His current graduate-level finance text, "Money and Schools, Fifth Edition" (2012) is used in more than 200 universities.
He authored the National Education Association's study, School Finance Litigation: Does It Make A Difference?" in 1999 and is co-author of the American Federation of Teachers' study "School Infrastructure Funding Needs: A State-by-State Assessment and An Analysis of Recent Court Cases" in 2008, which contributed to Congressional briefings on national school infrastructure conditions.
He served as lead reviewer and as chapter author for the U.S. Department of Education's major revision of Financial Accounting for Local and State School Systems in 2003 (NCES, 2004).
Additionally, he is co-author and co-editor of the book "Saving America's School Infrastructure" in 2003 with the foreword by The Honorable Senator Edward M. Kennedy.
His scholarly work is widely cited, including in such influential locations as the Columbia Journal of Law and Social Problems, Cornell Journal of Law and Public Policy, Harvard Journal of Law and Public Policy, Michigan Journal of Race and Law, and Yale Law and Policy Review."
In 2000, he received the University Council for Educational Administration's Award of Appreciation for Sustained and Meritorious Service for his contributions to the field through the UCEA Center for Education Finance, which from 1989-2006 was jointly hosted by Kansas State University and the University of Florida.
In 2012, he was permanently named Distinguished Fellow of Research and Practice by the National Education Finance Conference.