October 23, 2020
Today: Fall 2020 Coffee Hour presents Paraguay
Submitted by Paparwee Sungkatavat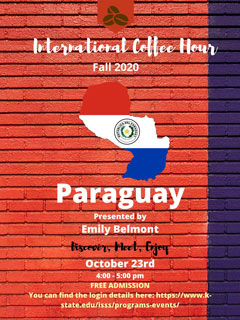 International Student and Scholar Services hosts the Coffee Hour series, a forum for international students to showcase their home countries.
Grab some coffee and join the live Zoom program to learn about the geography and culture of Paraguay at 4 p.m. Oct. 23.
The fall 2020 series schedule and details to log in will be posted online at k-state.edu/isss/programs-events/.