October 19, 2020
K-State Fighting for a Cure shirts to be sold at Union Oct. 19 and 21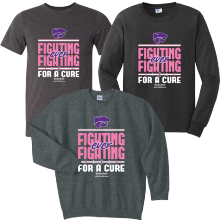 Get your Fighting for a Cure shirt and unite in wearing it on Oct. 24, K-State's seventh annual Fighting for a Cure Day, in celebration of the university's fight against cancer and in honor of the K-State family's cancer survivors.
The K-State Cancer Fighters, a departmental student organization, will sell the shirts from 11 a.m. to 1 p.m. Monday and Wednesday, Oct. 19 and 21, at the K-State Student Union. Shirt prices range from $15 for retro versions to $25, $30 and $32 for the current short- and long-sleeve T-shirts and sweatshirts.
All proceeds go to Johnson Cancer Research Center, which supports cancer research, education and training of faculty and students at K-State.
Shirts are also available for purchase online, at the center and at 1419 Mercantile, 3039 Anderson Ave., Manhattan.