October 14, 2020
WellCAT Ambassadors recruiting for spring 2021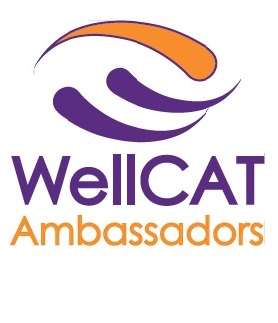 The WellCAT Ambassadors organization is now accepting applications for spring 2021. Applications are due Oct. 20.
WellCAT Ambassadors is a departmental student organization under the leadership of Lafene Health Center. Members are certified peer educators dedicated to the advocacy of overall health and well-being at Kansas State University.
The WellCAT Ambassadors provide evidence-based education, host events, collaborate with other campus and community partners, and serve as role models to encourage fellow K-State students to make well-informed decisions regarding their health and well-being. They are trained in a variety of health and social issues pertinent to the college population including sexual health, drug and alcohol use, eating disorders prevention, food safety, nutrition, physical activity, relationships, sleep, mental health and more.
After applying, interviewing and being accepted into the program, each WellCAT Ambassador will enroll in a three credits hour course for the spring 2021 semester, EDCEP 360: Peer Health Education and Leadership, No. 15815. Throughout this inaugural semester, the ambassadors become certified as peer educators, trained in first aid, CPR and AED, and explore the various health and well-being topics that they promote. This course also connects them to the abundant resources available on campus so that they may serve as a liaison between the services provided and the student body.
Apply online. For more information, contact Megan Katt, advisor, at 785-532-5226 or wellcat@k-state.edu.