January 29, 2013
Help welcome new and transfer students to K-State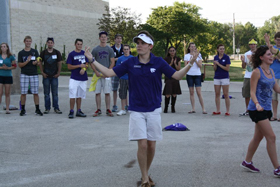 K-State's orientation and enrollment programs are comprehensive and structured to recognize the academic and personal needs of new K-State students and their families.
Orientation leaders and Wildcat Warm-up counselors are student leaders selected to play a significant role in welcoming and facilitating a successful transition of new students to the K-State campus. They also help with the planning and delivery of a one-day orientation program.
The application is available at www.k-state.edu/nss/positions. Application packets must be returned to New Student Services in 09 Anderson Hall by 5 p.m. Monday, Feb. 11.
If you have questions, please contact Kiley Moody at kmoody@k-state.edu.