August 14, 2020
Tammy Byland joining K-State as executive director for recruitment and admissions
Submitted by Communications and Marketing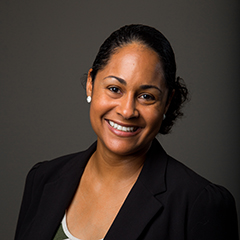 Following a national search, Tamara "Tammy" Byland has been appointed Kansas State University's first executive director for recruitment and admissions, filling a key position on the university's enrollment management administrative team.

Byland will start her new duties on Sept. 14 and report to Karen Goos, vice provost for enrollment management.

"Tammy Byland is a highly experienced administrator in the recruitment and admission of first-year, transfer, multicultural and international college students and is well prepared to lead K-State's recruitment and enrollment initiatives," Goos said. "Her record of success in this field makes her a valuable addition to the Office of Enrollment Management."

As executive director for recruitment and admissions, Byland will be responsible for leading all K-State student recruitment and enrollment initiatives, including external recruitment, on-campus visitation, admissions evaluation, orientation and enrollment programs, competitive scholarship awarding and project management in support of the university's enrollment goals. Collaborating with the Division of Communications and Marketing, she also will develop marketing and communication plans and materials to support recruitment and admission efforts.

Byland comes to K-State from the University of Cincinnati where she has served as assistant vice provost of admissions since 2018. She leads in the planning and implementation of enrollment strategies for the university's three campuses, which serve more than 46,000 students. Her accomplishments include reorganizing the university's admissions staff to maximize recruitment and enrollment efforts and overhauling the admissions process. The result of her work has been the recruitment of the university's largest and most diverse class of first-year students in 2019 that maintained a strong academic profile with an average 26 ACT score and 3.55 GPA. At deadline, fall 2020 first-year student deposits had increased by 3% despite the COVID-19 pandemic.

"I am thrilled to join the K-State family as executive director," Byland said. "As a native Kansan by way of Fort Riley and Overland Park, I have always had an affinity for K-State. My passion lies in helping students find pathways to create the life they envision for their future — and that work starts in the recruitment and admissions process. I look forward to creating partnerships within enrollment management and across campus to attract future Wildcats to an institution that is known for its academic excellence."

Before joining the University of Cincinnati, Byland served as director of admissions and international student affairs at the University of Missouri at Kansas City for five years. She was associate director of outreach and recruitment at The Ohio State University from August 2010 to July 2012. From May 2007 to August 2010, she was associate director of admissions at UMKC. She also served as an admissions representative and a residence hall coordinator at the University of Missouri in Columbia.

Byland earned a Bachelor of Journalism in strategic communications from the University of Missouri and a Master of Arts in higher education administration from UMKC.